Class Work
24th January 2020
The Nursery children are becoming more and more independent each day, taking what has been taught and modelled in adult-led sessions into their independent play time. Examples here show the children using the new self-service poster paint mixing area, sharing stories, playing a game using Numicon modelled in Maths and practising their shape knowledge. They are loving the new Space Station, and the Hairdressing Salon is still going strong!
In RE this week the Nursery children heard the story of Simeon and Anna meeting baby Jesus at the Temple in Jerusalem. They watched a video version, sequenced it then got dressed up to act it out. After looking at the beautiful stained glass windows in some Temples and Churches the children also made some beautiful stained glass window-style biscuits, using coloured melted boiled sweets as the window.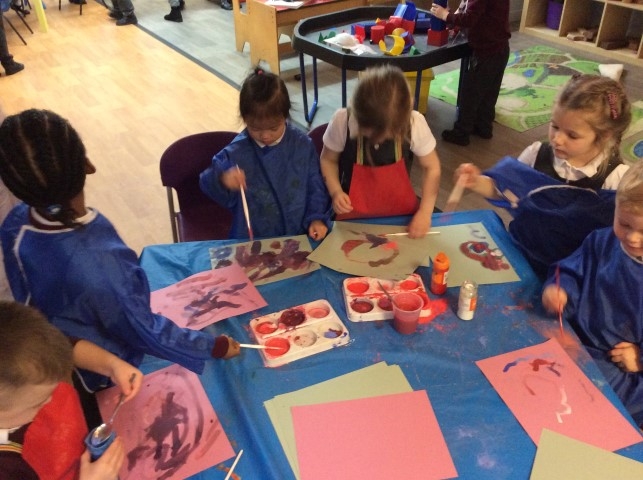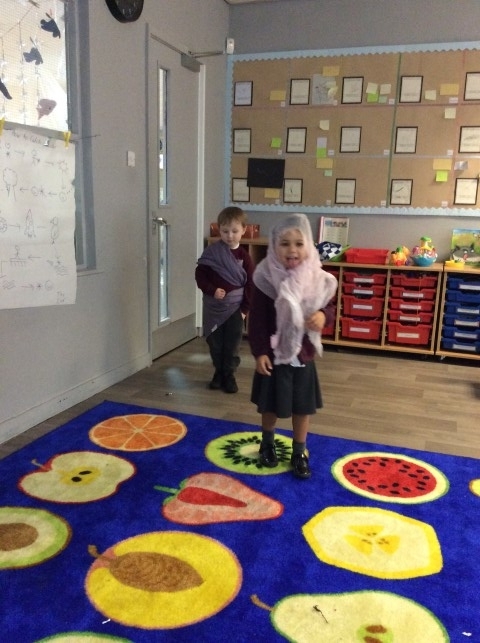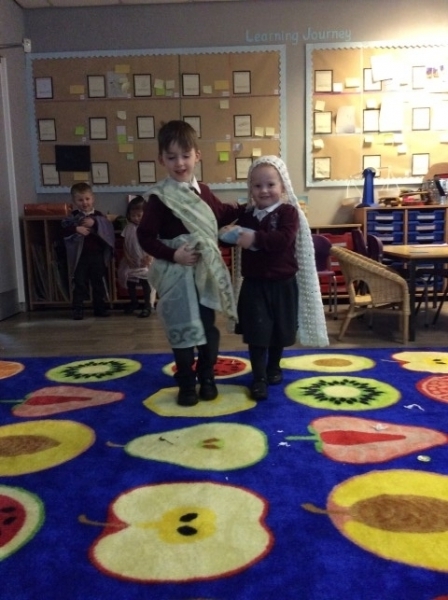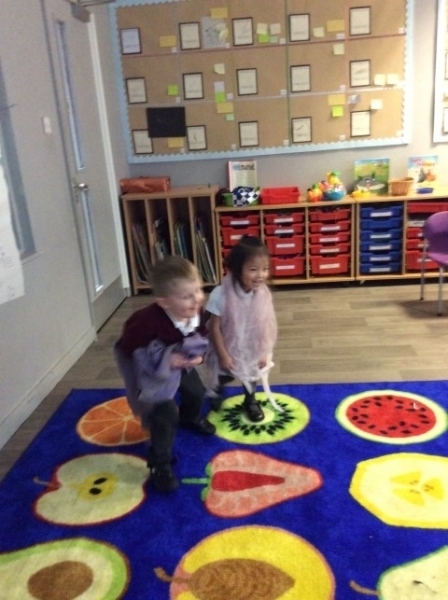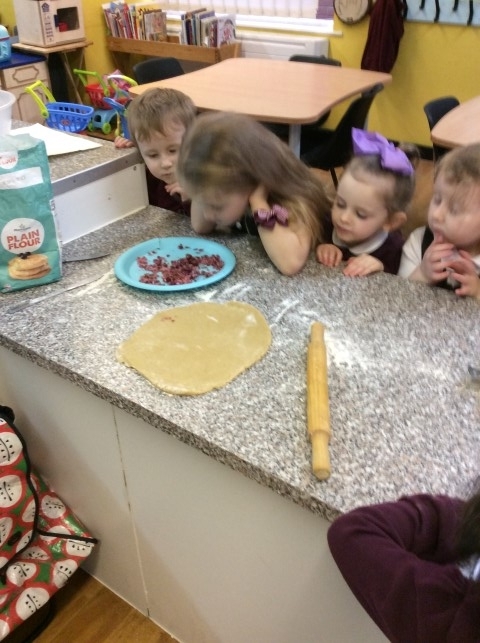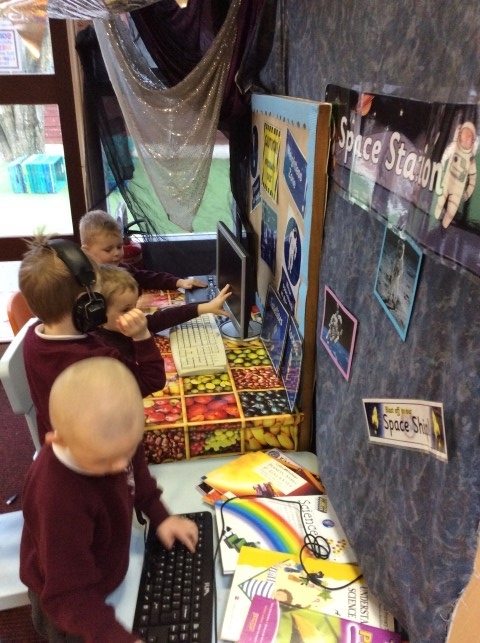 January 2020
In Nursery we have moved away from having snack in groups to having a self-service free-flow snack station that the children can access independently (with lots of modelling first!) This gives them the opportunity to count out how many snacks they know they are ok to take, to practise sharing out items equally between their table of friends, to exercise self-control and fairness in not taking too much, and to take part in social conversations with their friends, especially discussing whatever is on the Talk Time display that day. We have also set up another new area nearby, our Story Time Voting Station. Each day the children decide which book they would prefer to have at story time. They then take one block and place it in their chosen book's bowl. We all count the blocks in each bowl together at the end of the day to see which has the most, bringing lots of mathematical discussion to story time - Maths is everywhere! January 2020
The Nursery children take part in a fine motor skills activity after their daily phonics to help strengthen up those hand, finger, arm and shoulder muscles for future writing ability. They are really enjoying Squiggle While You Wiggle, Dough Disco, threading and using the tool set so far. January 2020
As part of the RE curriculum we have focus days throughout the year where we look at other faiths. In Nursery, after looking at the celebrations we are familiar with, and acting out our favourite (weddings!), we looked at the Jewish celebration of Hannukah. We looked at how it came about, why it is important to those with the Jewish faith and how they celebrate it, making comparisons with our own celebrations. We then enjoyed taking this learning into our play, making playdough menorahs, playing with a dreidel, playing matching pairs with images of the items discussed, and tasting some delicious doughnuts that Jewish people would traditionally eat at a Hannukah celebration.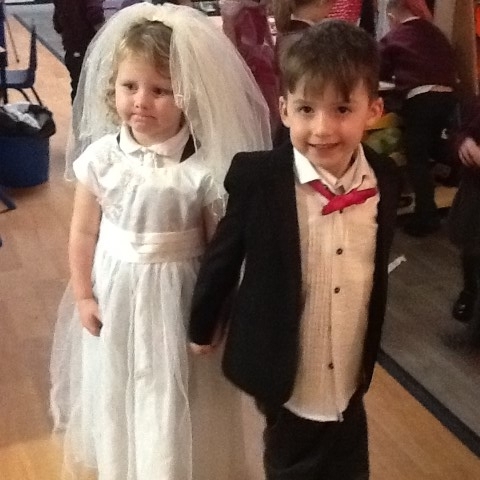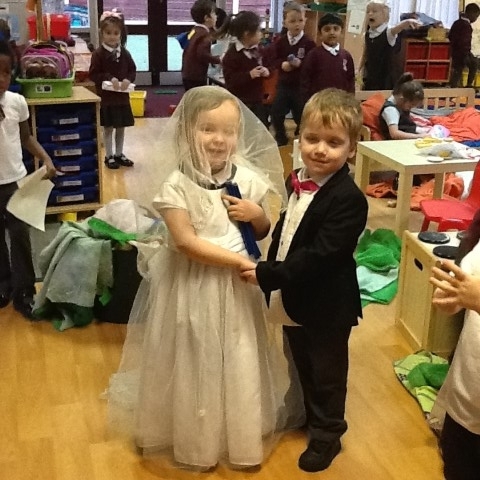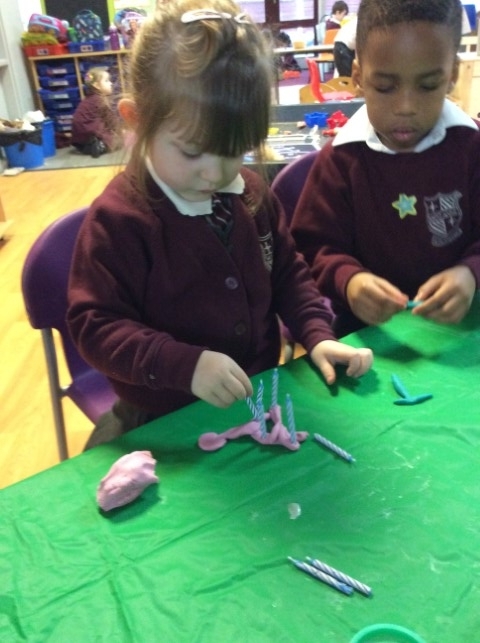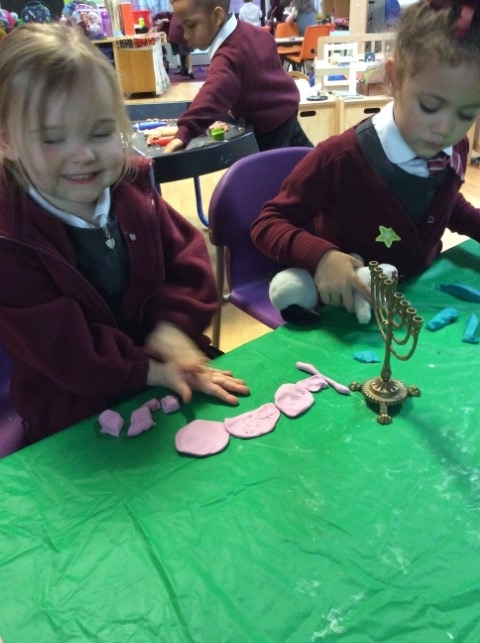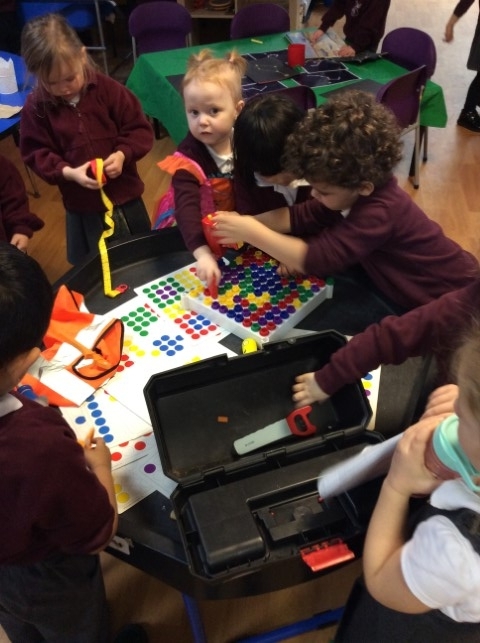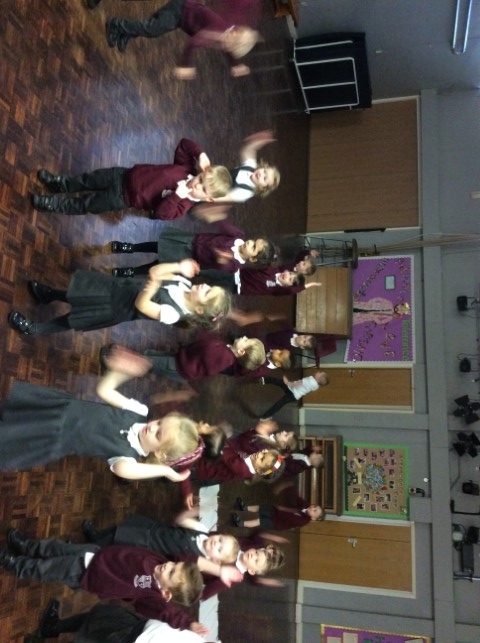 After sharing our current focus book, How to Catch a Star, the Nursery children learnt more about some of the less familiar vocabulary in the book. From this session they became really curious about 'starfish' so following their lead we let them come up with their own research questions then showed them how to find the information using a search engine on our laptop. Child-led learning in action! January 2020.
During the week of Epiphany in Nursery, we shared the story of the three Kings, and the children were then able to represent this in various ways of their choosing - through role play, small world play, with paint etc. We held a class Liturgy where, dressed in the crowns they had made earlier, the children heard the lesser known story of the fourth King, King Artaban. They heard about his kind acts and how Jesus appreciated these 'gifts from the heart' more than any material gift. They each presented a friend with a gift then said what 'gift from the heart' (act of kindness) they would show to their friends or family this week. January 2020.

The Foundation Stage children are loving exploring the new role play area; St Anne's Hair Salon. They are learning lots of new vocabulary in context; straighteners, curlers, hairdryer, customer etc and using the language of money when charging their fees! They are getting lots of practice with sharing and turn taking as there is only a small selection of resources and are showing off lots of imagination and role play skills e.g. walking round showing off their 'rainbow hair colour' after their appointment! January 2020.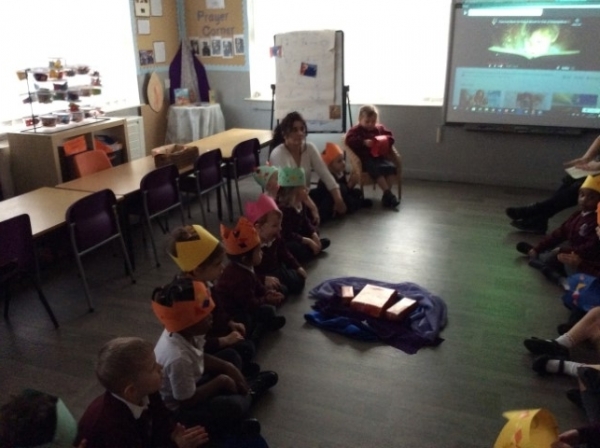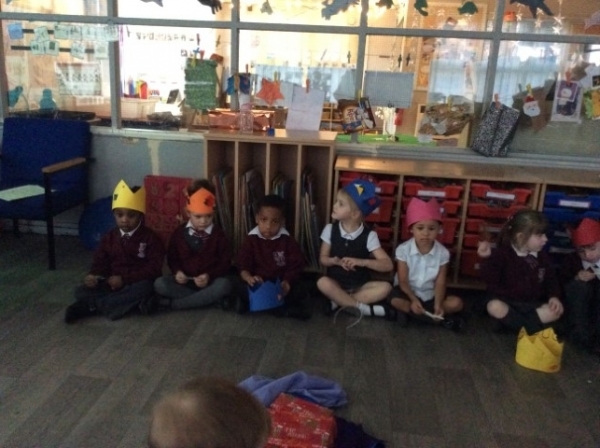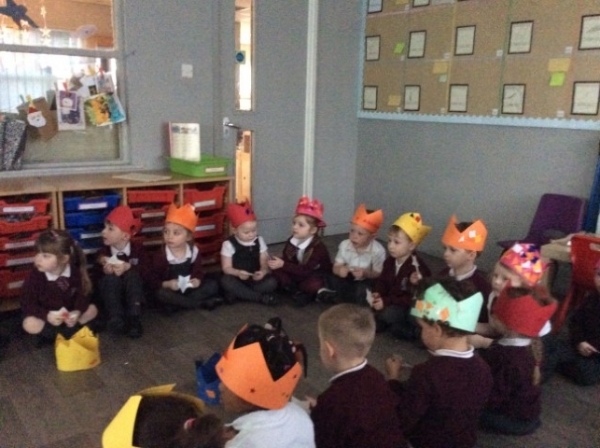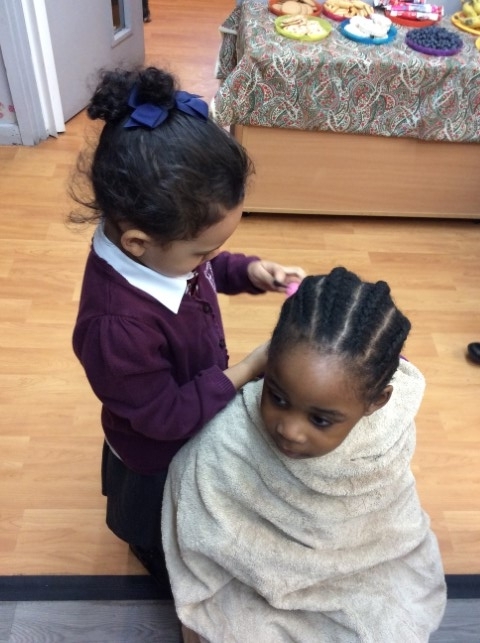 3rd December 2019
To celebrate World Nursery Rhyme Week we included this year's 5 focus rhymes in our daily Rhyme Time then themed some of our activities around them - we especially enjoyed Baa Baa Black Sheep themed sensory play and Incy Wincy Spider themed Maths.
To end Nursery's RE Topic on Baptism the children Baptised our class baby, wrote a Baptism certificate for him then celebrated with a party afterwards, making their own decorations and cakes to enjoy.
25th November 2019
One of Nursery's Anti-Bullying Week activities used apples to represent people. One apple we had been really kind to, the other not so kind. We opened up the apples to see how unkindness affects people inside in their hearts - this one was bruised and clearly hurt on the inside.
The Nursery children are loving the new hospital role play area. They have learnt lots of new language, such as stethoscope, thermometer, oxygen mask and more. They are getting lots of practice in sharing/taking turns and we definitely have some budding actors in the making.
November 2019
After all the excitement from the Nursery children around fireworks recently we watched some fireworks videos then let the children represent them in whichever way took their interest.
To develop pre-writing skills in Nursery we provide opportunities for the children to work on their gross and fine motor skills in lots of ways; giant and small-scale mark making, Squiggle While You Wiggle sessions, playdough and more.
October 2019
Our Nursery children have been learning lots of new vocab this week; selecting ingredients for their potion recipes, whisking and stirring, then telling their group what their magical potion would do. We've been turned into frogs, princesses and more!
To tie in with Black History Month the Nursery children looked at the country of Africa, in particular the story Handa's Surprise. They learnt how to do some African drumming and dancing then had a go at retelling the story.
Autumn Hunt
The Nursery children have been loving playing with conkers this week so we decided to go on an Autumn hunt. We found tiny pine cones, berries and apples growing, lots of beautiful leaves and more! We can't wait to explore, play with, and talk about, all the collected items over the next few days.
Going on a Bear Hunt
In Nursery we have been learning all about Michael Rosen's; We're Going on a Bear Hunt. A group of children volunteered to perform the retell with actions - didn't they do an amazing job!!
Multi-sensory
We decided to mix up our scissors skills practice today in Nursery and cut up lots of beautiful herbs. The children loved this multi-sensory experience. Next mission - to grow our own in our new mud kitchen area!
Early Years Literacy in action
Mark making with meaning, cosy reading, strengthening fine motor skills through sewing and exercising our gross motor skills!
Settling into Reception
The children in Reception class have settled into school brilliantly and we have had the most wonderful first couple of weeks together. We have enjoyed getting to know each other and making new friends, following instructions and settling into new routines. The children have worked together to set our "Bee Happy" rules that will keep us all safe and happy in school. We have spent lots of time exploring the resources and learning where things belong and how to safely use the toys and equipment. We are so impressed already with how well the children have adapted to their new environment and looked after the resources and each other! Well done and we look forward to the exciting year ahead with you.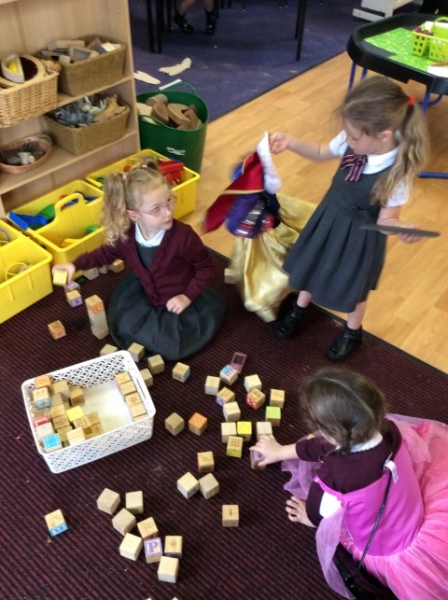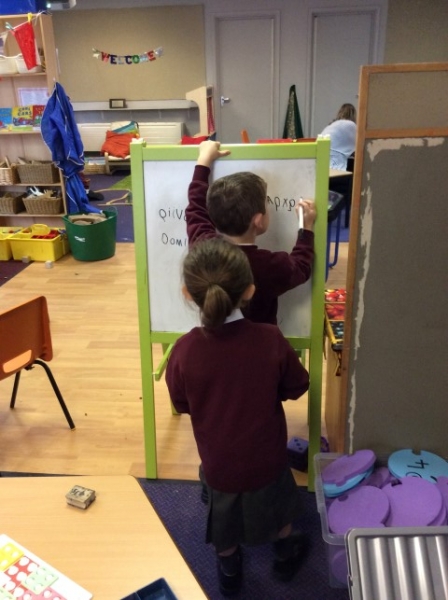 Nursery Class
The Nursery Class of 2019-20 are doing very well settling in to the St Anne's family, exploring our various learning areas and making new friends.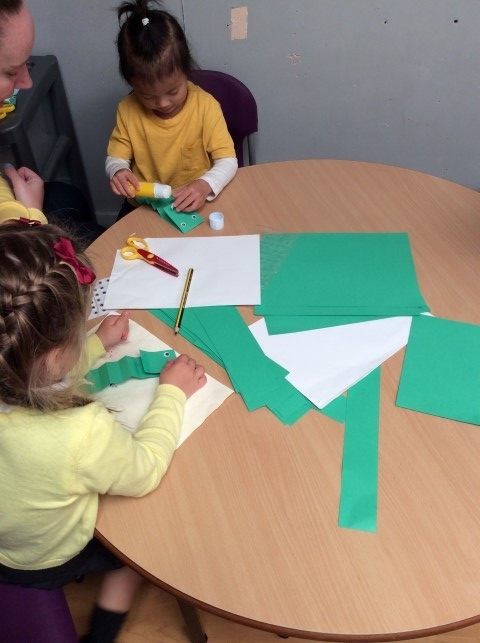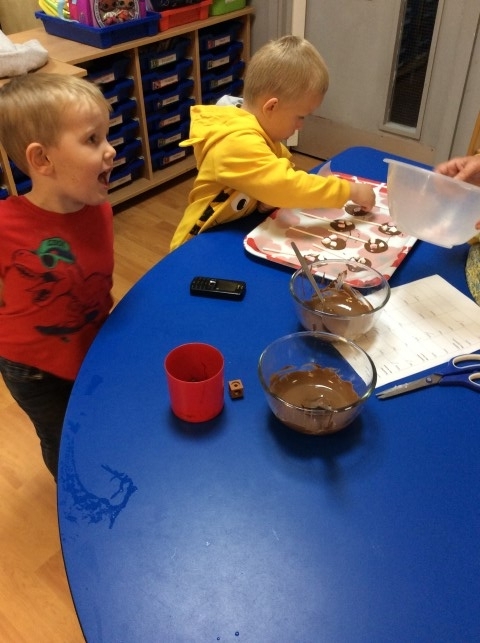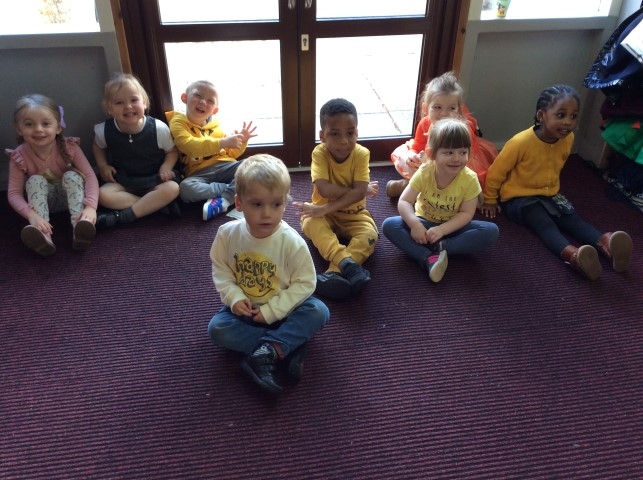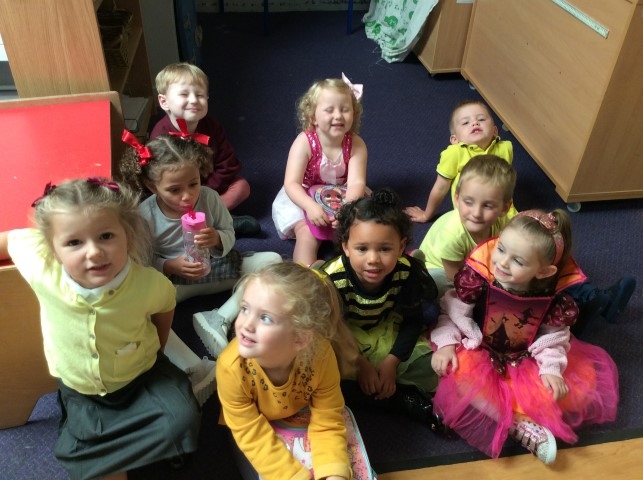 Welcome Day
After looking at the St Anne's Mission Statement together, the Reception children planned and delivered a Welcome Party to celebrate our new Nursery children joining the St Anne's family. They baked cakes, made bunting decorations then had lots of fun with the new children dancing, playing with balloons, blowing bubbles and playing games together.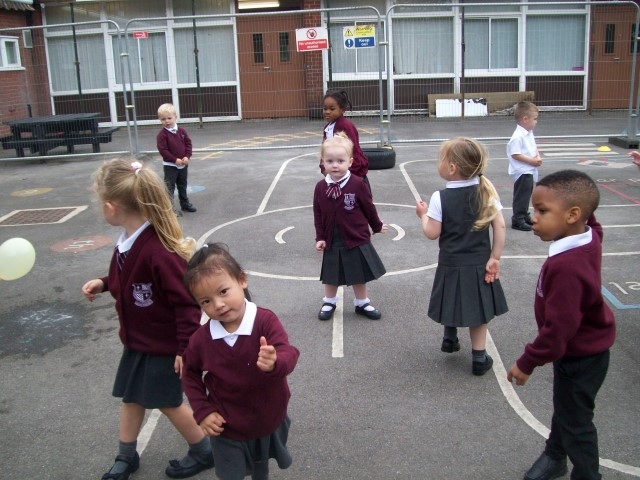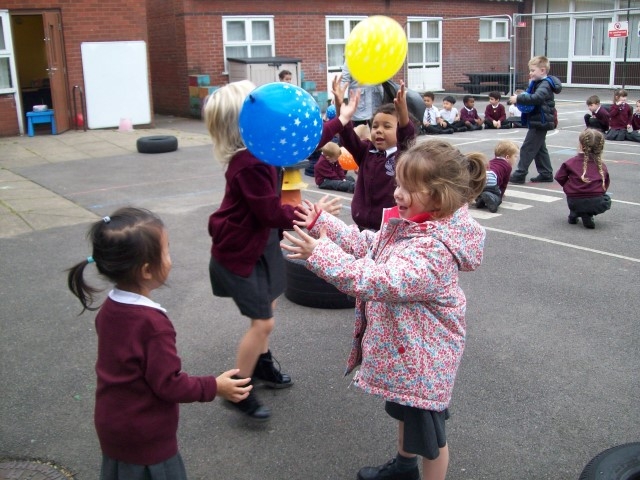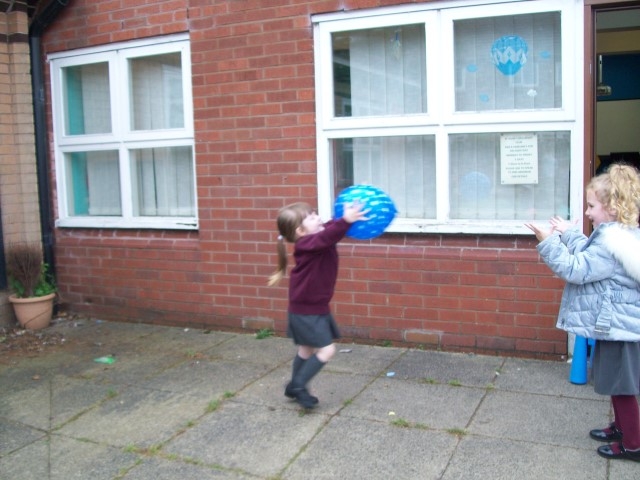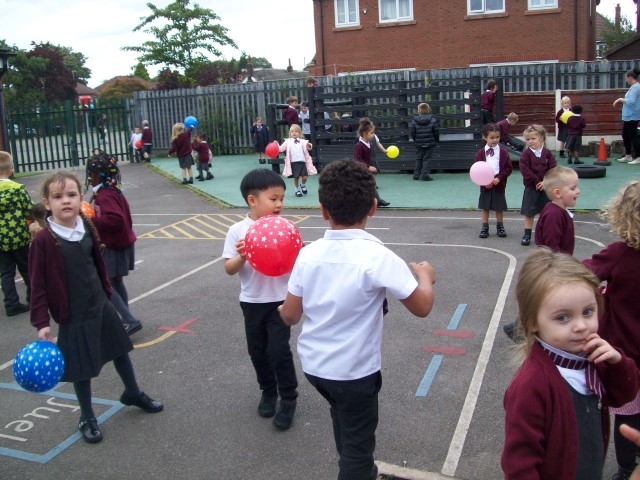 Roald Dahl Day
The Nursery children looked fabulous all dressed up for Roald Dahl Day. After looking at some of Roald Dahl's books together, we made crocodile bookmarks to celebrate The Enormous Crocodile, we made our own chocolate lollies to celebrate Charlie and the Chocolate Factory, we mixed dream potions to celebrate The BFG and we tasted peaches to celebrate James and the Giant Peach.