Gallery
Healthy treats
Today it was Ollie's birthday! He brought in a special, healthy treat to share with all the children and staff in Nursery: a fresh fruit bowl! Thank you for this wonderful gift, we all really enjoyed it!
Reception and Year 4 Easter Egg Hunt!
Science Week March 2018 – Exploring Science!
What a week we have had in Foundation Stage becoming scientists for British Science Week! The theme of the week has been exploring and the children have been taking part in lots of exciting experiments. We kicked off the week with a visit from our lovely parent helper Dr Garvey to talk to the children about being a scientist and to carry out some experiments. We have explored the changing state of liquids, experimenting with ice by using salt and coloured water to melt ice balloons. We made "ocean's in a bottle" to see that the sand sinks to the bottom of the bottle and the oil floats to the top. We also read "Little Miss Inventor" and used our recycled rubbish to make our own inventions! The children enjoyed exploring materials to see if they were magnetic or not.
Chocolate Experiment – Science Week March 2018
During science week we explored changing states and worked with chocolate to make chocolate penguins. We rubbed our hands together to create heat and then held a chocolate button, it got very messy as it melted in our hands! We melted a bar of chocolate using the microwave then we poured it into the moulds and put it in the fridge to set. The children learnt that heat melts chocolate and that cold makes it solid again.
We had some super examples of instruction writing following our experiment!
Reception Class Are Growing in Love for Jesus – Lent March 2018
The children have been thinking of ways we can grow in love for Jesus during Lent. The children have been trying hard to care more, share more and help more! We discussed Lent being a time to grow closer to Jesus. As part of our reflection we did some observational paintings and drawings of flowers. We discussed the things we need to do to care for the flowers (by watering them to help them to grow, by using careful hands to look after the petals) and the things we need to do to care for each other. By sharing, caring and helping each other we grow to be beautiful on the inside!
LAUDATO SI – Reception Class
We discussed the effects of pollution on our world after reading the letter "LAUDATO SI" which asks us all to do our part in looking after our "common home". The children used recycled plastic bottles to make an ocean in a bottle as we discussed the damage plastic is doing to our oceans. The children also brought in junk from home so we could use it to make models. We discussed how we can help to save our own little part of the Earth by doing small jobs such as turning off lights and recycling rubbish.
Foundation Stage Mother's Day Assembly
Thank you to all the children in our Nursery and Reception for their beautiful Mother's Day Assembly!
Follow the links below to see our assembly and some of our songs:
World Book Day - 1st March 2018
Snow Day Fun - Feb 2018
Lost and Found Topic - Spring 2
The weather couldn't be more fitting for us to start our Lost and Found topic, based on the book by Oliver Jeffers. In the story a boy finds a penguin at his door and helps him find his way back to the South Pole.
The children have been making their own boats, choosing materials that they think will float and testing them to see which can float with the most penguins on. We have also been painting to the music from Swan Lake to make the waves for our role play area. The children used small, slow movements to the calm music and large movements to the dramatic music, creating huge waves!
Chinese New Year Celebrations - Feb 2018
The children in Foundation Stage loved celebrating Chinese New Year and celebrated by making Chinese lanterns, dragons and firework pictures. The children learnt about the legend of Nian the Dragon and created their very own dragon parade!
Stick Man Topic - January 2018
The children in Reception loved learning the story Stick Man by Julia Donaldson and exploring maths and literacy through this topic.
Maths - the children went on a walk and collected sticks to use in our maths activities in school. They worked together to make shapes and describe the properties of the shapes they had made. The children made pictures out of the sticks trying to use different shapes in their pictures. We also used the sticks to order from shortest to longest. There was lots of mathematical language used by the children and lots of fun was had by everyone!
Literacy - The children learnt to retell the story of stick man and wrote sentences about where the stick man would go in their own version of the story. The children performed the story for parents during World Story Telling Week... check out the video below!
Foundation Stage Nativity Play
Please click here for this year's Foundation Stage Nativity
Reading Buddies September 2017
The children in Reception love reading with their Year 4 reading buddies on Monday afternoons...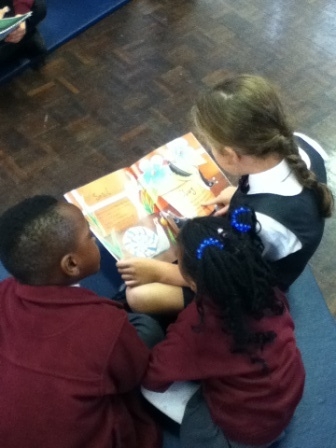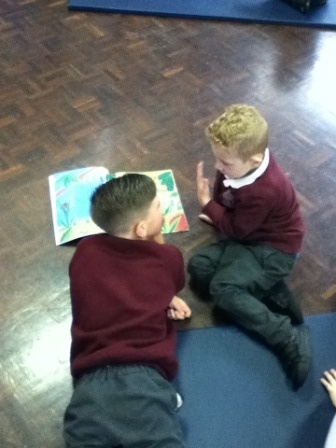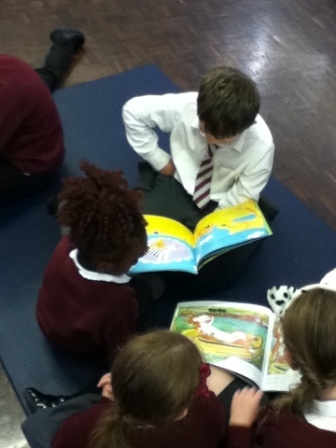 September 2017 - Our Mission Statement Party!
The children in our Reception class planned a welcome party for our Nursery children to help them to learn about part of our Mission Statement "to celebrate all that is good". The children made party hats and baked cakes for the Nursery children and we enjoyed a fantastic party together on their first full day in school. We welcome all of our new children and families to St Anne's!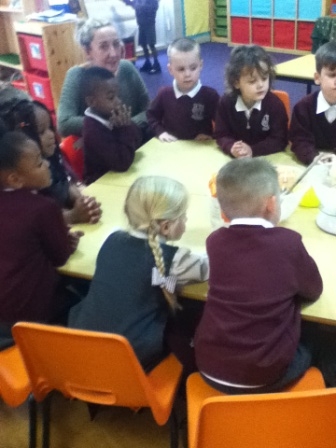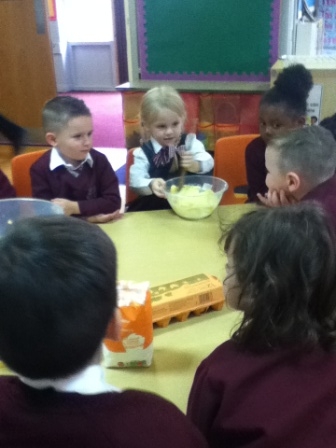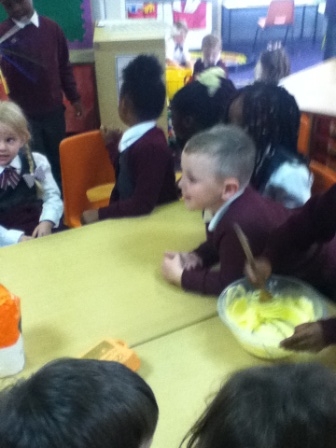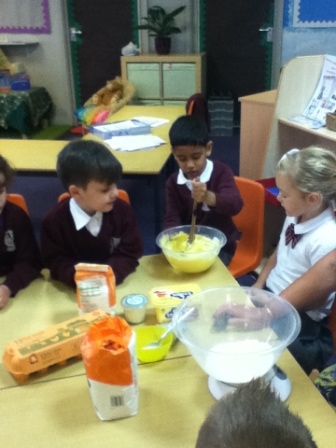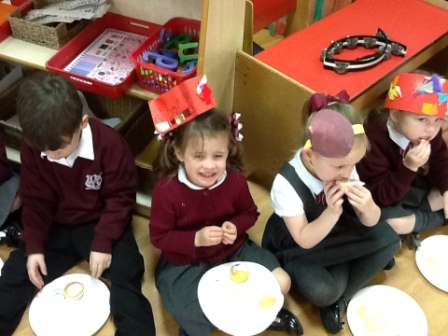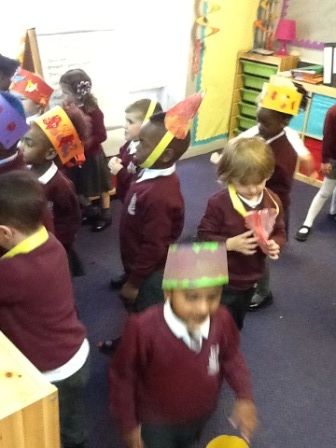 Roald Dahl Day September 13th 2017
We had a fantastic day celebrating Roald Dahl day in our Foundation Stage and we enjoyed reading the Enormous Crocodile!