Class Work
Tuesday 28th November 2017
Today we have been learning about how to prepare for God's gift of love (Jesus). To consolidate our learning, we have made our own 'Countdown to God's Gift Calendar'.
Friday 17th November - Class Science Investigation
Today we completed our testing session for our investigation into toothpastes.
We were using a comparative test, whereby we were comparing our own toothpaste (inventions) to an everyday leading brand. We agreed that it would be the number of brushes taken to clean a dirty tile (replica of our teeth) to explain how effective the toothpaste was.
Take a sneak peak at what our investigation looked like.
November 2017
To complete our learning about Roman Roads. We decided to create our own diagram of one using Marshmallows, grapes, digestive biscuits and dark chocolate. Here you can see us working hard to create our masterpieces along with our final result.
October 2017
To end our Instructions unit, we decided to make Halloween Slime. As you can see we had a fun time making it. But most importantly, we produced some fantastic writing!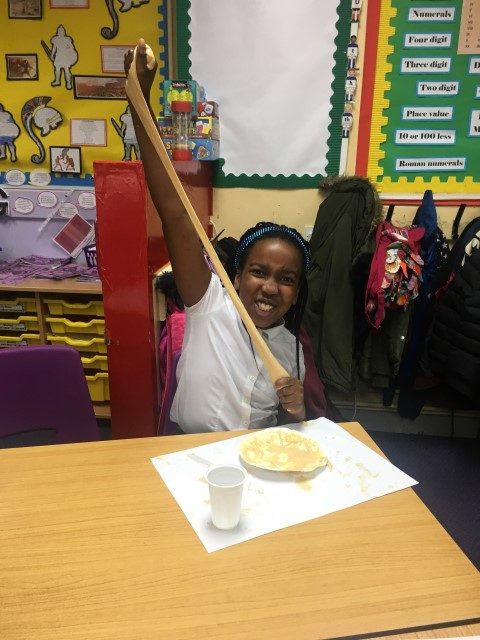 Let's Get Cooking
Let's get cooking has begun! This is where we develop our skills in the kitchen with Mrs Brennan. Take a look at our delicious creations.
Roald Dahl Day – 13th September 2017
Today was Roald Dahl Day! Thank you to Year 4 for making such a huge effort in dressing up. Please keep an eye on the Key Stage Two corridor to see the work we've done today!
Roman Timeline Investigation – 25th September 2017
Take a sneak peek at our introduction to timelines. Miss Murphy gave us a problem to create a timeline with rulers, glue sticks and event cards. We even learnt a song to help us remember the difference between B.C and A.D and how to order them correctly. If you would like to hear it, please ask!
Science – 13th October 2017
This week we having being investigating the different types of teeth. In order to understand the different types (Molars, Incisors and Canine) we shaped and moulded clay to form the structure of each type. From there we then discussed how each one functions and help with our everyday eating habits.