Class Work
Year 6 CAFOD visit
Today we had the pleasure of Mrs Sivills coming in to each class, from Year 1 to Year6, from CAFOD. She spoke to all the children about 'Laudato Si', a letter written by Pope Francis. In the letter Pope Francis is urging us to protect our common home: the earth. At the moment our earth is being very badly mistreated and it is developing at a rate we cannot keep up with. We must act know to show our love for God's wonderful creation and out of love for each other. What are you doing to help protect our common home?
World Book Day - 1st March 2018
Year 6 have made a real effort to dress up for World Book Day! They braved the snow and wind to get here and have worked hard all day. As you can see, their costumes are fantastic!
Science - 25th January 2018
In Science today, Year 6 has been learning all about the circulatory system!
Chester Zoo Trip - 24th January 2018
Year 6 went to Chester Zoo! We had a truly brilliant day and saw lots of wonderful animals, including: giraffes, elephants, jaguars, exotic birds, monkeys, snakes and a sloth! Thank you to all the staff at Chester Zoo for your help!​
Advent Assembly - 21st December 2017
Year 6 performed their Advent assembly. It was beautiful! We saw what a special lady Mary was and watched her obedience and faith as she received an unexpected visit from the Angel Gabriel. We also saw her shock as she discovered her cousin Elizabeth was pregnant also. Thank you to the children for doing such a wonderful job.
Auden House visit - 19th December 2017
Year 6 went to sing Christmas carols at Auden House, a local care home. We had a wonderful time celebrating with the residents and were so happy they joined in with us!
Multi Faith Week - December 2017
During Multi Faith Week, we were very fortunate that Judith and Kathy came in to speak to us about their Jewish faith. They spoke to Years 5 and 6 about Judaism and their rituals and beliefs. They later spoke to Year 6 about the discrimination faced by Jews during the time of Nazi Germany, which linked in with our Keep Calm and Carry On topic. Thank you so much Judith and Kathy for a wonderful and enriching afternoon.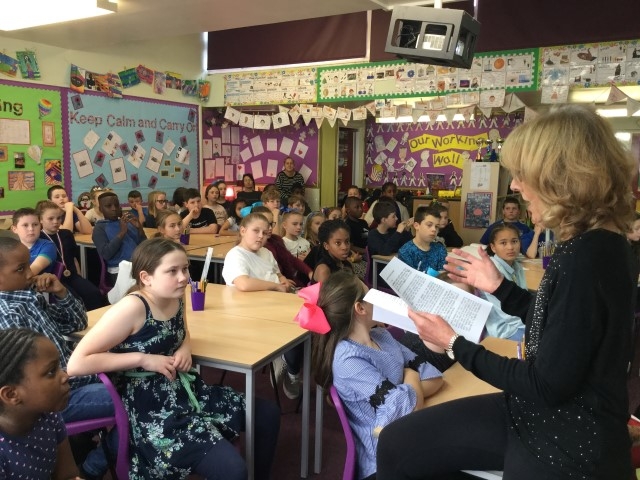 Science - December 2017
Year 6 had the wonderful Mark Derbyshire in for the morning to further explore their current Science topic of 'Living things and their habitats'. Thank you Mark for a fascinating morning-we even learnt how to classify a variety of sweets and chocolates!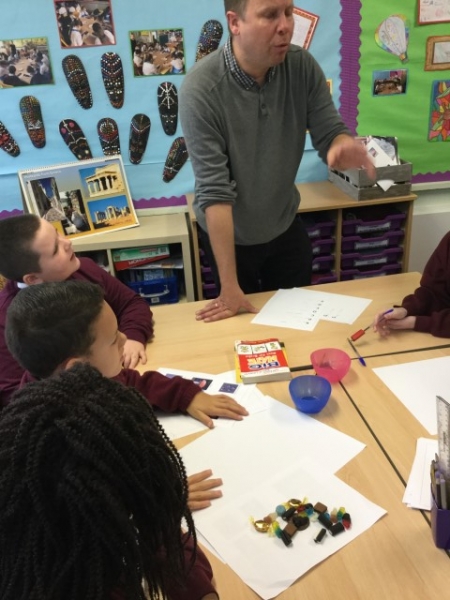 Candle Holders - December 2017
Year 6 have been busy recently making things for the Christmas Markets. We made some lovely votive candle holders from clay and lots of marshmallow skewers covered in delicious chocolate! You can also see some of their stunning Christmas cards which they have woven all on their own.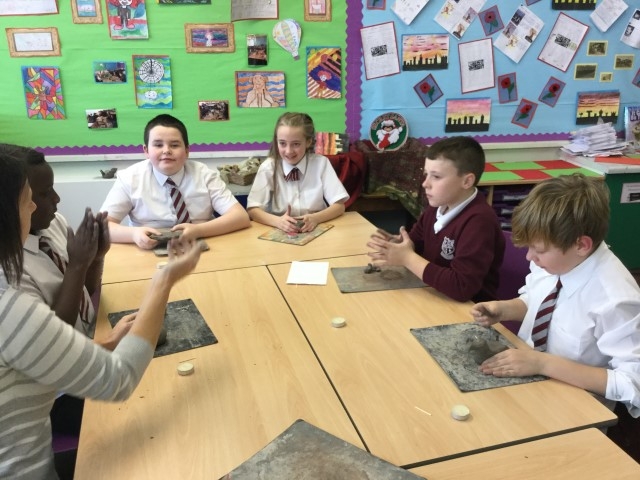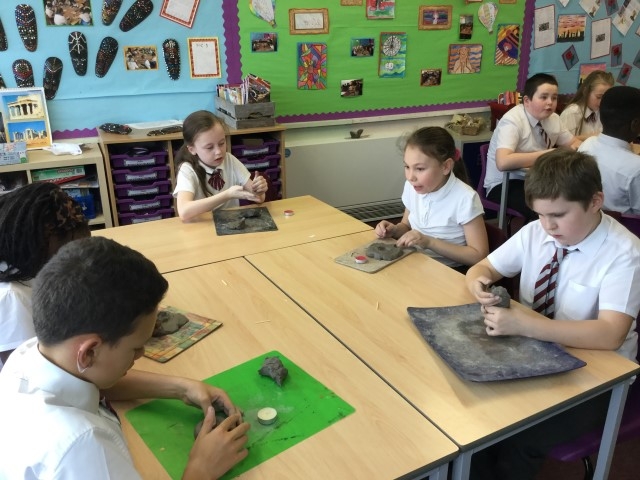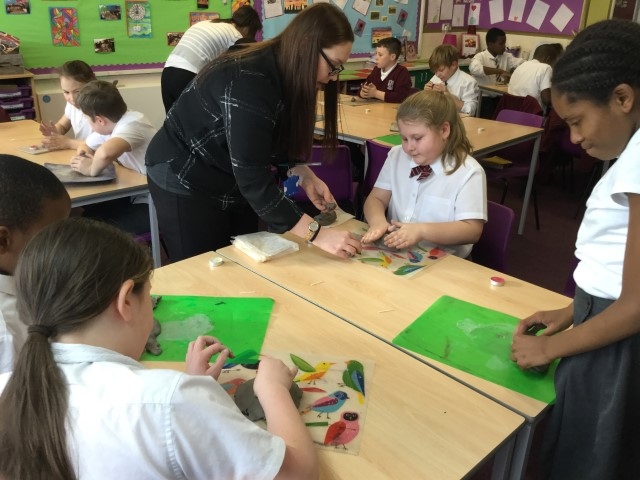 Safe Squad - 15th September 2017
This afternoon Year 6 went to Safe Squad. We took part in several workshops whilst we were there. The first session was led by the Police and we looked at various examples of hate crime. We were told about #westandtogether -a new initiative following the Manchester bombing. The police officers spoke to us about how to keep safe when we are out of the home. We watched several mini dramas which showed examples of anti-social behaviour.
We then had a digital safety workshop. We discussed different social networking that we use and why we use them. We spoke about who follows us on social media and what we should do to stay safe. The importance of knowing everybody who follows you was discussed and how important it was to talk to people about who follows you. We spoke about apps that involve playing games with people we do not know and how we can keep safe-Block Them! We looked at what grooming is and the pattern of grooming. Remember to be: SMART!
S is for Safe-for will the information keep you safe?
M is for match-are your online friends who they say they are?
A is for Accepting-don't accept friend requests from strangers.
R is for Real-Only be friends with people online that you know in real life.
T is for Tell- Tell and adult you know and trust if anyone asks you to do something that makes you feel uncomfortable.
We then had a workshop by the Fire Service. Electrics, cooking, candles, cigarettes and fans/heaters are the 5 main causes of fire in the home. We then played a game when we had to decide if certain scenarios were good or not good. We were told that whenever there is a house fire, a fire engine would be there within 8 minutes.
CAFOD presentation - 18th September 2017
This morning Mrs Sivills, an educational volunteer with CAFOD, came in to speak to Year 6 about a programme called , 'Power To Be.' She explained that lots of people in developing countries don't have the power to be what they are capable of.
We were given an example of a school in Kenya that has recently received two solar panels, enabling them to work into the night. CAFOD is currently running a campaign to urge the World Bank to fund renewable energy sources in the developing world-Year 6 are going to help support CAFOD in getting this message across.
Please clink the below to see the work Year 6 have been doing in support of CAFOD:
https://cafodsalford.wordpress.com/2017/09/20/st-annes-primary-support-power-to-be/
Roald Dahl Day - 13th September 2017
Today was Roald Dahl Day! Thank you to Year 6 for making such a huge effort in dressing up. Please keep an eye on the Key Stage Two corridor to see the character study work we've done today!
Gospel Value Work - September 2017
Year 6 have been working hard on developing their sewing skills. They are already showing huge improvements! They have been sewing key words associated with the Gospel value 'Justice.'
Disability Awareness Day - September 2017
Year 6 had a wonderful day yesterday! The lovely Becky from Manchester City's City in the Community programme came in to do a Disability Awareness day with us. We looked at what a disability actually is and whether you are born with it, or whether it is acquired. We spoke about visible and invisible disabilities. Becky then gave us the opportunity to play football without our sight and volleyball without the use of our legs. Thank you Becky for a great day-it really made us reflect on how people adjust their lives when they have disabilities.