Gallery
Safe in Autumn - November 2018
Year 6 have had a wonderful morning learning all about being safe in autumn. Thank you very much for your time today @manchesterfire #safe4autumn
Video of walking in the fireman uniform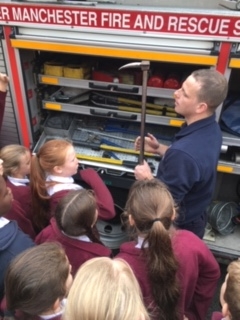 Safe Squad - September 2018
Year 6 had an enlightening visit to the Safe Squad crew where we listened, watched and took part in some real life activities!
Digital safety, Community safety and Personal safety were the topics we covered, all areas that will play a huge part in their lives as they grow up into young adults.
A very memorable trip.
Many thanks to the safe squad team!