Class Work
Save the Rainforest
In literacy and geography we have been studying the impact of deforestation and the growth of palm oil plantations in Borneo and Sumatra. We thought carefully about the impact of this and used our thoughts and feelings to describe.
We have created our own amazing leaflets with the purpose of raising awareness and encouraging people to make changes to help protect the environment; such as avoiding products containing palm oil linking with our literacy work, we are conducting our own debate about deforestation – encouraging us to consider this issue from several perspectives in relation to the impact of deforestation on people, the global climate and world geography.
Multiplication
In numeracy we have been looking at various methods of multiplication – using our times tables knowledge to help us. We have now begun to have times tables tests which are giving us lots of practice, alongside the excellent efforts we continue to show through our TT Rockstars and MyMaths work at home. We are progressing to division next week and are very excited about it!
Maya civilisation
We have been learning lots of new facts about the ancient Maya civilisation and investigating replica artefacts – inspiring us to generate our own historical questions (and finding the answers). As part of our topic we have designed and are now making our own Mayan masks having studied their various styles, colours and purposes. We had a great afternoon of papier mache using balloons and newspaper to create the base for our masks.
3 Little Birds
We have been practicing the Bob Marley song in preparation for learning to play this on the recorder. We have shown just what beautiful singing voices we have, along with great rhythm and timing.
Changes in materials
We have conducted fair tests during our science investigations into soluble and insoluble materials and also created new materials by mixing vinegar and bicarbonate of soda. We particularly enjoyed observing what happened to the balloon in our last experiment! We have used the data we collected to produce our own statistics and graphs, whilst recording detailed observations in our teams.
Note from Mrs Richardson
A very big thank you to everyone for your lovely, kind welcome into the St Anne's community.
Please continue to keep up the excellent work at home on TT Rockstars and MyMaths. We are beginning daily times tables tests next week so please practice as often as you can to help build up speed and recall.
LINKS
The following website has some fun numeracy activities and is free to access: http://www.topmarks.co.uk
Please can you continue with the excellent reading at home. Just one page every night helps with reading fluency and comprehension skills. The following link can be helpful to talk through with your child when they are reading.
Reading Vipers Link 
Viking Long Ships
We have finally created our Viking Long Ships -they look incredible! We have used many different skills to create our final products including sewing our very unique own sails.
Prime Numbers
Today we practically investigated prime numbers using pasta shapes! The children had to work out if their random handful of pasta was divisible by more than two factors. This activity sparked excellent discussion and debate!
Rock stars!
Today we performed Living on a Prayer by Bon Jovi. The children are enjoying learning how to play the glockenspiel!
Italian lessons
The children are really enjoying their Thursday Italian lessons. They are learning so much already!
Pottery session
NSPCC
Thank you to our visitors from the NSPCC for teaching us how to speak up and stay safe!
An Anglo-Saxon artefact hunt!
The children enjoyed matching statements from historians to a range of evidence and arefacts. We uncovered the history of Christianity in Britain.
Living on a Prayer
Today we have been learning how to play Living on a Prayer on the glockenspiel.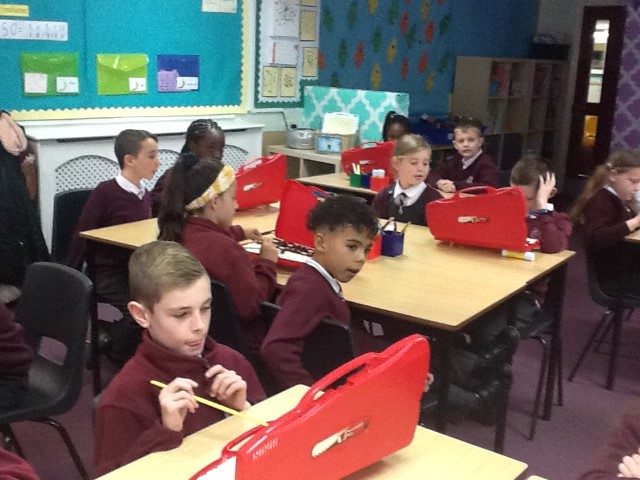 Poster Competition
Last week Audas set year 5 a challenge to design a poster promoting health and safety around construction. Here are the lucky winners!
Italian Lessons
This week we have started our Italian language lessons!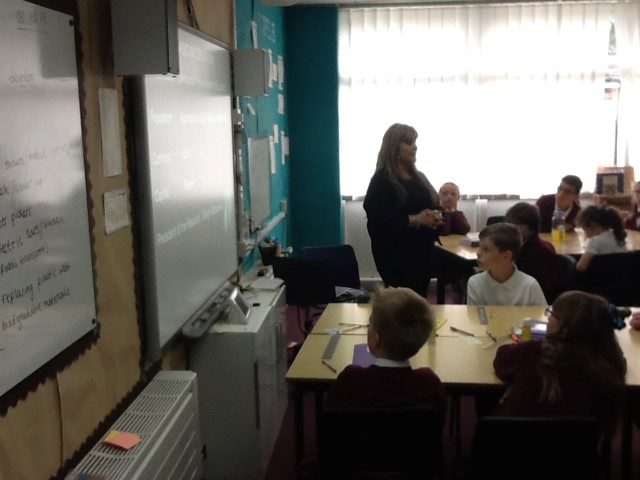 Electrical circuits
Today the children created their own circuits and tested materials to see if they were electrical conductors or insulators.
A visit from AUDAS
Thank you to the team at AUDAS for your inspirational talk about the interesting job opportunities that construction provides!
Fair tests
It has been a pleasure to see the children plan their own investigations testing the durability and absorbency of a range of cleaning materials. They had to choose a way present their findings and share their results the the rest of class. Well done!
A fair test
We have planned and conducted fair tests investigating the strength of different types of paper.
Ice cream investigation!
Year 5 have been investigating which material would be best suited to insulate ice cream! They have worked well in teams to collect data with precision and accuracy.
Organ Donation Week
Year 5 would like to thank Mr Pownell for talking to us about Organ Donation week. We have been baking treats to sell on Friday at 2pm in the hall. All the money raised will go towards the Organ Donation Network.