Staff
Teacher – Miss Tracey
Teaching assistants – Mrs Crowther
Important Notices for Year 1 Parents
PE kits must be worn on a Monday as we have an external sports coach who comes in to school.
Reading Books and Diaries should be in school everyday – and children should read every night.
Children should have a water bottle with them everyday.
Curriculum
Documents
Links
Welcome to Year One
We hope you enjoy looking at some of our lovely, hard work!
Our Mission Statement is "To help every person here to achieve his or her best in work and in play. To celebrate whatever is good and to follow in the footsteps of Jesus by supporting and forgiving each other, For the honour and glory of God."
In Year One we discussed how important it is for us to follow in the footsteps of Jesus and grow with God. We explored different choices we could make to show we are growing with God. Here are some of our beautiful butterflies to represent growing into a beautiful strong part of God's family.
Year 1 Easter performance
Year 1 and 2 Easter performance
Tell me a Dragon
To start off our year, we explored the book Tell me a Dragon by Jackie Morris.
We loved the illustrations in this story. In Year One we all created our own dragon using adjectives to describe them.
We then worked with Mrs Partridge and Miss Partridge to create our own clay dragons.
Here is our hard work!
Don't give up Deema Duck
This is Deema Duck – she is a little reminder that we should never give up.
In school this week we talked about why it is important to not give up. We worked as a class to create Deema using different materials. Everybody then designed their own Deema using paint.
In Year One we are enjoying practising writing our sentences. We all wrote down motivational words to remind us to keep going. These are in our classroom in case we need a little reminder during the day.
Some of our favourite motivational phrases are ….
Keep it up
You can do it
Keep going
Try your best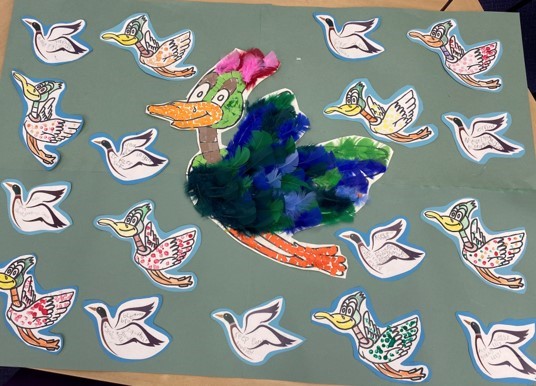 The Holy Rosary
The month of October is the month of the Holy Rosary. Each day in October we practised the Hail Mary prayer. We also explored how to say the Holy Rosary and the Rosary beads people may use to say the prayers.
We each made our own 'mini' versions of a set of Rosary beads. We included 10 beads for 10 Hail Marys. As well as this we used three extra beads for the prayers: The Our Father, The Glory Be and The Sign of the Cross.
We then created some beautiful pictures of Our Lady in the Grotto. We are very proud of this work.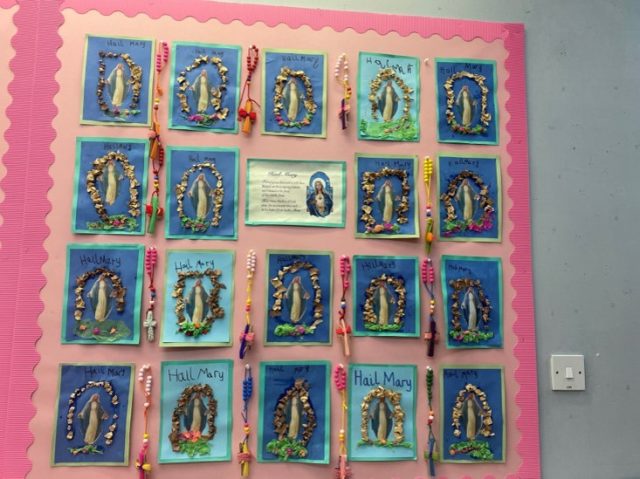 Halloween
We enjoyed lots of Halloween games and a disco!
Bonfire Night
We had a very special afternoon in Year One. We celebrated Bonfire Night altogether in school. We had the chance to make a sparkler and watch some real sparklers.
We made lots of noise with different instruments and used chalk to decorate our playground in fireworks.
We then tried some Parkin cake whilst watching some fireworks displays.
We really enjoyed our afternoon.
Remembrance Day
Here are some of our fabulous Remembrance day poems that Aoife and Dominic shared with us whilst learning at home.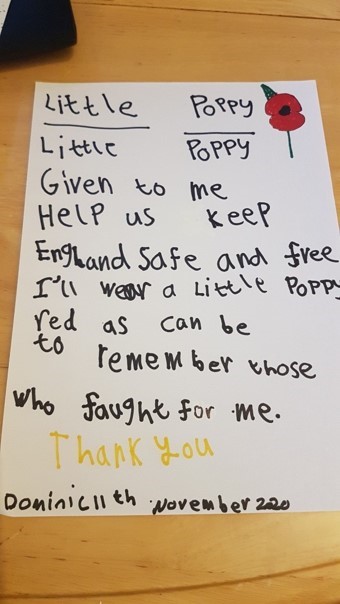 Here are some other poems we have created with Mrs Partridge for Remembrance Day. We also created some beautiful artwork to compliment our poems.
Christmas
Our Christmas celebrations. In Year One, we practised very hard for our Christmas Carols. Here is our wonderful class in their Christmas Jumpers.
Enjoying Our Christmas Lunch.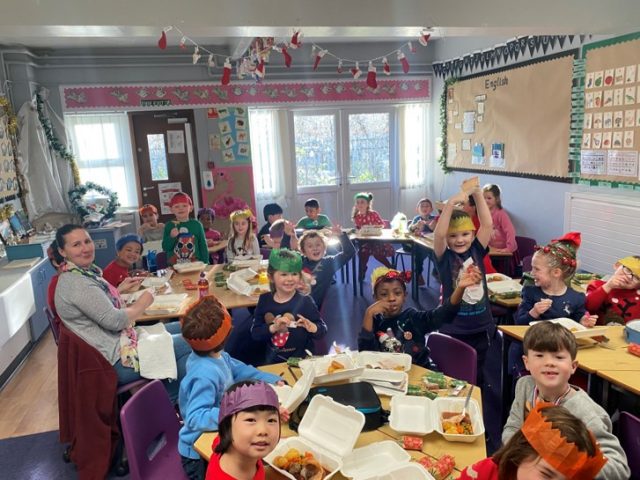 Year One's Dinosaur channel
Here are some of Year One's favourite dinosaurs. Listen to our resident experts tell you all they know about their favourite dinosaurs.
We hope you enjoy😊
We have loved having Mrs Partridge in our class during lockdown she has given us lots of fun ideas 😊 here as some below.
Our winter theme
In school we have tried lots of different winter activities in our provision time.
During this time we practiced lots of important skills. Some of these skills included writing, maths, fine motor and creative skills.
Here are some examples of the activities we have completed.
Leaf
To start our rainforest topic we looked at some different stories which had similar settings.
These stories included:
The Great Kapok Tree by Lynne Cherry
How Night came by Joanna Troughton
Leaf by Sandra Dieckmann
We spent lots of time exploring the story Leaf. We loved the illustrations and the plot of the story.
"Leaf is about loads of animals" Lily
"Leaf is about a polar bear who covers himself in leaves as he is scared of the other animals and the other animals are scared of him. He wants to get home to his family which he does in the end" Isaac
We created some lovely leaf crowns both at home and in school inspired by the beautiful illustrations in this story.
Our Year One Flamingo Family!
During lockdown the children learning from home designed a flamingo; this was to have a 'piece' of their Year one classroom at home. Earlier in the year each child in year one contributed to the creation of a class flamingo. The Class flamingo was created during Laudato Si week as we admired Gods beautiful animal creations.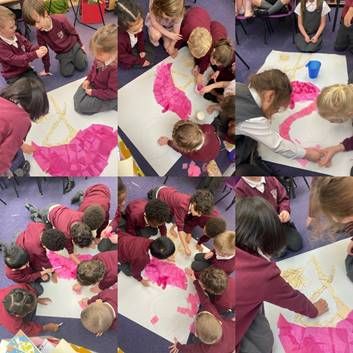 Here are some of the flamingos our class made at home …..
Sidney Spider
We used the Talk for writing story called Sidney Spider. We used simple pictures and actions to help us sequence the story.
Using this approach, we were able to retell the story with ease!
We also used cardboard, pipe cleaner, wool and googly eyes to make Sidney.
Here are the story maps we created….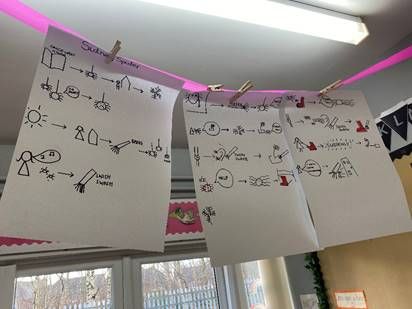 Our own stories inspired by Sidney spider.
After sequencing Sidney Spider we used that format to be able to create our own stories about character we made up.
Our characters are animals with special talents.
Here is Amaras Story Map she made at home.- Poppy the Panda
At home Jayden created a story about Allo the Cheetah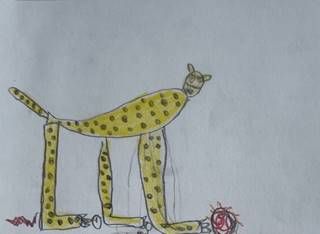 Declan's story Leila the Ladybird
Special People – Come and See
In school and at home we have discussed different roles in our church community. Here is use roleplaying some of them.
Children's Mental Health Week 2021 – 'Express yourself'
How we feel inside
We used colour, shapes and different words to fill our people. The words and colours we used reflected how we felt at that time.
Some of used spikey lines for pins and needles, swirly lines for a rumbling stomach and Z z z for a part of our body that feels tired.
Sensory Bags
We created sensory bags with a lavender scent to help us feel calm. We used sparkles and feathers to personalise the bags.
Worry Dolls
In school and at home we created a worry doll, this is a small treasure we can tell our worries too. This doll will also help us tell our worries to adults to help keep us safe.
April