Welcome to Year Five!
We are so excited to be back to school surrounded by all your smiling faces. We cannot wait to learn and have fun with you all!
Mrs Chadwick is your class teacher.
Other adults that help in class are:
Mrs Hutchinson
Below you will see some information about each of the subjects and learning we will be doing during the Autumn Term, as well as your spelling sheet for this half term and our Curriculum Overview.
English
This term we are exploring lots of different text types and reading books and extracts to help inspire our writing! To begin with, we are reading 'I am Dragon' and creating our own non-chronological reports. We will focus on our writing skills and learn new ways to use advanced grammar and punctuation.
Maths
Our first unit in Maths this term will be place value. Some of the objectives we will cover are, writing, ordering and comparing numbers up to 1 million, rounding to the nearest 10, 100 and 1000 and recognising Roman numerals. We will also be recapping some of the learning from previous years, including identifying the value of a digit in a number, counting in negative numbers passing through zero and continuing to work on reasoning and problem-solving skills. Throughout the year, we will spending time recapping our times tables so we are able to recall them up to 12 x 12. In preparation for this, it could be useful to start practising using TT Rockstars!
Further on this term, we will also be beginning to look at statistics, recapping your learning from year 4, and beginning our addition and subtraction unit.
Religion
We will begin our RE learning this term with the topic of 'Ourselves'. In this topic we will begin by discussing our school mission statement and how we can follow this at school. We will spend some time discussing our talents and qualities God has given us and how we can develop this further, as well as looking at how as God's children, we are similar to God. Towards the end of the unit, we will be focusing on the poem 'footprints' and exploring how God is always there for us and discussing a time when we have felt strength from God. Throughout this unit, we will be linking ideas to PSHE lessons and discussing our rights in school. Article 29 explains that your education should help you use and develop your talents and abilities, which we will be discussing throughout this unit.
Science
Our first unit in Science will be Earth and Space, which will be packed full of fun activities and exciting learning! We will begin the unit by explaining day and night and looking at the movement of the sun across the sky. We will then moving on to describing the movement of the Earth and other planets around the sun, as well as the movement of the moon, relative to the Earth. Throughout the unit, we will be working on our investigation skills and working scientifically.
Topic
We will be studying Energy and Sustainability, which will focus on how we can have a positive impact on our environment in the present and the future. The children will explore renewable and non-renewable resources. We will be learning about a Brazilian city named Curitiba. We will learn about how it has become a 'green' city that includes innovative design and holds sustainability at its heart. We explore a German city named Freiburg. We learn about how it has become a city that has thought about its long-term environmental impact and has developed sustainable practices.
Curriculum
Spring Curriculum Overview 2022
Year 5 Behaviour Plan 2021-2022
Class Work
Anglo Saxon History investigation
Today the children explored how Christianity came to Britain. The children matched statements made by historians to evidence.
Spreadsheets
This week the children are learning about Spread sheets in computing.
History
Today we invested the missing grave at Sutton Hoo. We examined historical Anglo-Saxon artefacts to draw conclusions of who we thought the grave belonged to.
Art
Last term we learnt about Pop Art and admired the works of Roy Liechtenstein, Andy Warhol and Richard Hamilton. Here are some of our incredible works of art that were inspired by Pop Art.
Newton meters
Year 5 have been investigating the forces We used Newton meters to measure friction.
Year 5 Advent Liturgy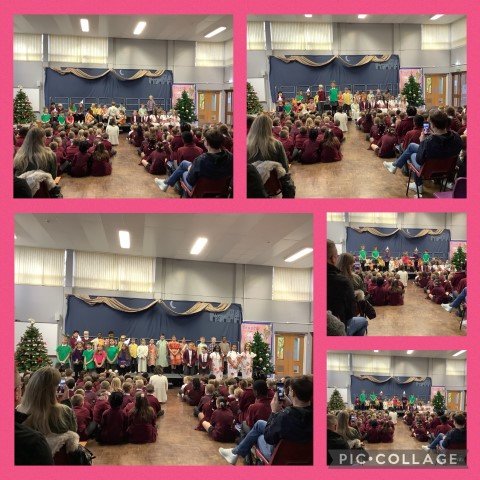 Year 5 fieldwork
Today we investigated how sustainable Audenshaw is and discussed how we could make improvements to our local area! Year five had a brilliant time!!!
Databases
This week in computing we explored and make our own databases. We learnt how to create fields and add records.
Halloween in Year 5
Caritas week
This week we have explored our Rights and Responsibilities. We have had some amazing discussions on how they both go hand in hand. We have thought about the quote 'no man is an island' and realised how much depend on our families, friends, community and God in our every day lives.
Our Mission Statement
We have reflected on how forgiveness is such an important part of our School Mission. We discussed when Jesus has shown us how to forgive in the Bible and the steps we must take in order to forgive.