Welcome to Year Five!
We are so excited to be back to school surrounded by all your smiling faces. We cannot wait to learn and have fun with you all!
Mrs Chadwick is your class teacher.
Other adults that help in class are:
Mrs Hutchinson
Below you will see some information about each of the subjects and learning we will be doing during the Spring Term, as well as your spelling sheet for this half term and our Curriculum Overview.
English
This term we are exploring lots of different text types and reading books and extracts to help inspire our writing! To begin with, we are reading 'The Highway Man' and creating our own narrative text. We will focus on our writing skills and learn new ways to use advanced grammar and punctuation.
Maths
Our first unit in Maths this term will be covering multiplication and division. Some of the objectives we will cover are, multiplying 4 digits by 1 digit, multiplying 2 digits by 2 digits, Divide 4-digits by 1-digit and dividing with remainders. Throughout the year, we will spending time recapping our times tables so we are able to recall them up to 12 x 12. In preparation for this, it could be useful to start practising using TT Rockstars!
Further on this term, we will also be beginning to look Furthermore, the children will be learning about fractions, decimals and percentages.
Religion
We will begin our RE learning this term with the topic of 'Mission'. In this topic we will begin by Exporing a range of inspirational leader's missions and what impact they had on others. We will spend some time discussing their own and other people's ideas about questions about what inspires people in their mission and realise that some of these are difficult to answer. Towards the end of the unit the children will show and understanding of how their own and others' decisions in carrying out their mission in communities are informed by beliefs and values.
Science
Our first unit in Science will be Life Cycles, which will be packed full of fun activities and exciting learning! We will begin the unit by understanding what a life cycle is. We will then moving on to researching a range of different life cycles (mammals, amphibians, reptiles, birds, fish) . Throughout the unit, we will be working on our investigation skills and working scientifically.
Topic
We will be studying the World's Rivers. We will explore how rivers shape the land, the features of a river, why rivers are so important to people and what happens when a river floods.
Curriculum
Year 5 Behaviour Plan 2020-2021
Class Work
First Day Back
During our first week back, we shared the art work of Niki Groom 'Stay Home' and discussed how life changed during Lockdown.
We reflected on the the quote,
"Even though we are still battling the storm, a rainbow is near."
The class created their own painting to reflect the 'Stay Home' message and show thanks to our key workers.
Mission Statement
We reflected on our Mission Statement and created our own personal 'Tree of Hope'. The children wanted their paintings to be uplifting and vibrant to celebrate being back together again! They all did a super job and our classroom looks fabulous with the paintings on display!
Mission Statement reflections
We have written reflections on our Mission Statement and discussed what we are grateful for, especially the simple things that we once took for granted, such as playing with our friends and learning together.
Desert Island Maps
We've planned our desert island maps which we will write reports about in Literacy. The children have been so creative with their ideas!
Daniel and the Lion's Den
Year 5 have created a beautiful display and retold the story of Daniel and the lion (Daniel 6 1-28). They took so much pride in their presentation- well done to you all!
Caritas Week
During Caritas Week we focused on 'Human Rights'. Year 5 created their own declaration to share with the rest of the school.
Halloween Disco
I witnessed some amazing dance moves this afternoon!
History Home Learning Task
Over the past week, our class has been asked to research, design and create a Viking Longship. This was created on Minecraft- how impressive!
Viking Longship
Wow! Look at this magnificent creation! I am so impressed with your final products created during remote learning!
Wesak
Well done for making a Buddhist Wesak Lantern to celebrate Interfaith Week! It's super!
Science experiments at home
This week I have set you a number of investigations to complete at home. Here is a fantastic example of exploring separating mixtures whilst cooking a delicious meal! completed her science experiment whilst cooking a delicious meal!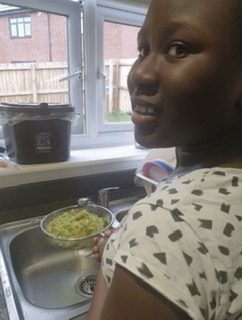 Changing States
During science we explored the changes of state that take place as honeycomb toffee is made.
If you would like to try this experiment at home you can follow this easy recipe.
https://www.bbcgoodfood.com/recipes/honeycomb
Make sure you do this with the help of an adult.
Christmas Dinner
We had a great time pulling crackers before our Christmas dinner arrived today!
Christmas performance
Lots of concentration was shown when rehearsing for their glockenspiel performance! They did so well!
The Epiphany
Today the children reflected on the story of The Epiphany. They were given the task to think about a gift they would present to Jesus.
Let's keep drumming
Our children are enjoying their drumming lessons from home this week with Mr Jepson!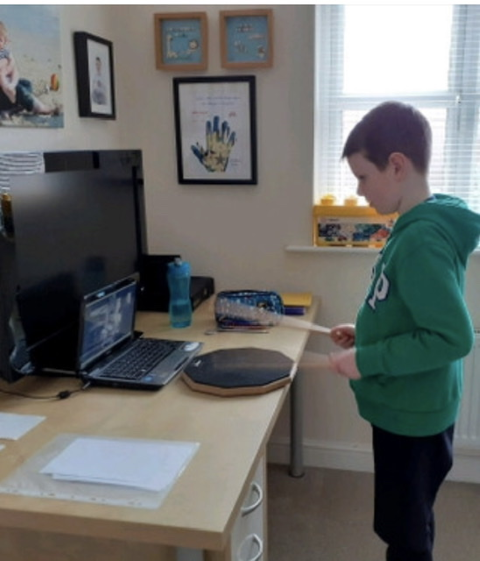 Long multiplication
Year 5 have made excellent progression with their long multiplication this week!
Bird watching
Today year 5 did some bird watching and then drew the birds they had observed! They finished off with some lovely hot chocolate!
The Highwayman
We have now finished our topic of the Highwayman which the children have really enjoyed! I received the best surprise today, one of our children decided to publish her whole story in the most beautiful book. Thank you! You are an awesome author!
Easter Assembly 2021