Welcome to Year Two.
I am very excited to be with the same lovely children again this year; Mrs Gleeson and I are looking forward to all the learning and fun we will be having in Year 2.
Below you will find some important notices and documents to help us in Year 2.
Staff
Teacher – Miss Tracey
Teaching Assistant- Mrs Gleeson
Documents
Curriculum Overview
Notices
All children should have a PE kit in school ready for Monday afternoon when our external coach Mr Martin delivers a PE session.
Reading books and diaries should be in school every day. Children should aim to read each night at home to help them improve their skills and confidence.
You will be able to view an overview of the Year 2 curriculum below. This shows all of the areas we will cover in the different topics across the curriculum.
Some helpful websites to support learning from home
https://www.phonicsplay.co.uk/
https://ttrockstars.com/
https://www.purplemash.com/
https://www.mymaths.co.uk/
Our new phonics scheme
At St Anne's, we introduce our children to phonics through the DfE approved Little Wandle Letters and Sounds (Revised) Systematic Synthetic Phonics (SSP) programme.
The complete SSP programme draws on excellent practice from schools around the country. Little Wandle also draws on the latest research into how children learn best; how to ensure learning stays in children's long-term memory and how best to enable children to apply their learning to become highly competent readers.
Daily Phonics Lessons in Key Stage One
In Year Two the children receive two phonics sessions a day and a catch-up session in the afternoon if required. This is an integral part of Year Two as we prepare for the Phonics screening check.
We follow the Little Wandle Letters and Sounds Revised expectations of progress:
Children in Reception are taught to read and spell words using Phase 2 and 3 GPCs, and words with adjacent consonants (Phase 4) with fluency and accuracy. See the full progression overview here
Little Wandle Information for Parents
Here you will find guides on how to pronounce the sounds taught in Reception and information on reading with your child:
https://www.littlewandlelettersandsounds.org.uk/resources/for-parents/
Mission Statement
Our School Mission Statement is 'To help every person here to achieve his or her best in work and in play. To celebrate whatever is good and to follow in the footsteps of Jesus by supporting and forgiving each other, for the honour and glory of God.'
Class Work
Bonfire Night
Here are some of the beautiful bonfires we created to mark bonfire night. One flame we retold the story of Guy Fawkes and why we remember on the 5th of November. One flame was lots of different words that we thought describes the different sounds fireworks make. On the final flame we wrote some similes to describe fireworks.
We took these home to share with our families!
Remembrance Day
Here is our KS1 display all about Remembrance Day – In Year Two we created some beautiful pieces of art work of Flanders field using different watercolours and charcoal. Then we created some amazing poems reflecting on the importance of remembering those who fought in the war.
Our 'Fabulous Friday'
We were very lucky to be able to invite our adults in to see some of our work in Year Two.
Everybody in Year Two was proud to share their hard work with their parents and carers. We really enjoyed being able to share our classroom and our work.
We can't wait to invite everybody in again!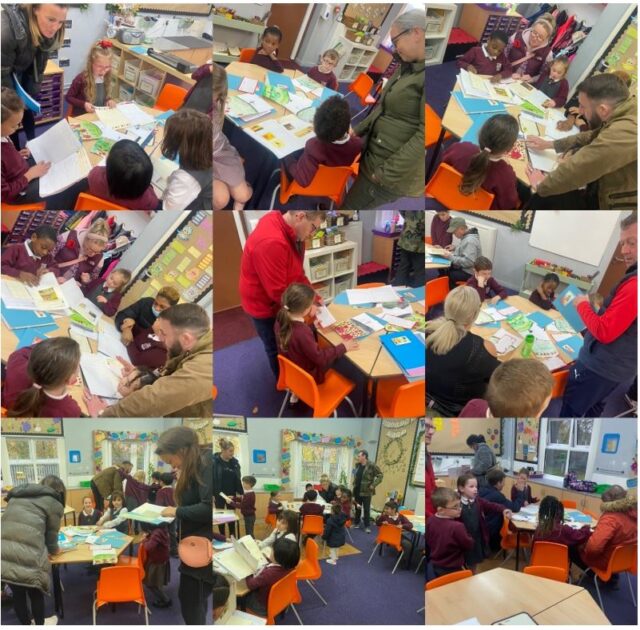 Instructions
We have been exploring lots of different information texts, this term out focus was instructions.
One of our lovely parents treated us to some marshmallows so we decided to use our new instruction writing skills to create a set of instructions for a chocolate marshmallow lolly pop.

We worked very hard to create these instructions and then to make the delicious treats! Here are some pictures, I'm sure you can tell we had a fab afternoon!
We then moved on to more detailed and complicated instructions – making our own sandwiches!
Everybody wrote their own instructions and got to make and enjoy their own sandwiches. We even got to take a set of instructions we created home in case we ever want to use them again.
Anti-bullying Week
Mrs Partridge did an experiment with us this week. Using an apple, we saw how saying nasty words will hurt someone on the inside. However, if we say kind things it wont hurt people but will help them feel good.
To mark Anti-bullying Week, we created some posters for school to spread positivity and kindness.
We want everyone to recognise how 'Super Duper' they are. We hope you love our posters.
Year Two library visit
Year Two enjoyed a trip to the library. We enjoyed a walk down the canal to the new library in Guardsman Tony Downes House.
We discussed how the fiction books are arranged in alphabetical order and non-fiction books are arranged using numbers.
We loved exploring all of the books and choosing one to take home with us.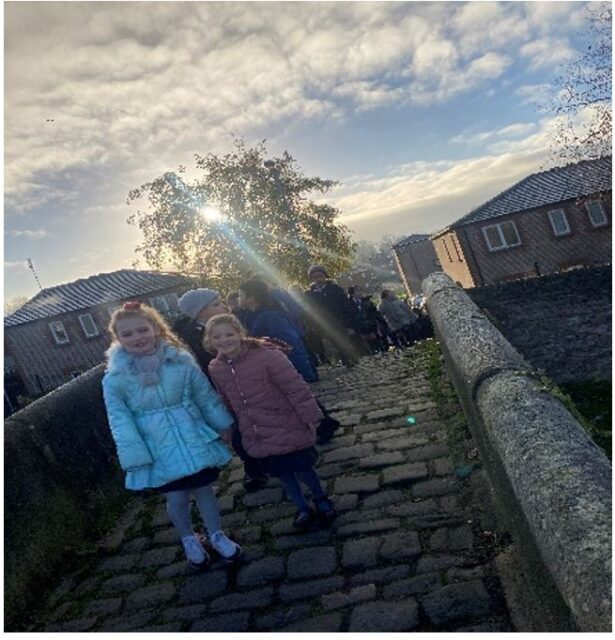 Story of Zacchaeus
In Year Two we explored the Bible story of Zacchaeus the Tax collector (Luke 19:1-10) in this story we learn that we should never judge others and we should always show forgiveness just as Jesus did. Jesus knew that Zacchaeus could change and make a good choice. We should show this same attitude in our lives.
We created a beautiful sycamore tree at the front of our classroom. On each leaf is the story of Zaccheaus – we will aim to look back at this throughout the year to remind ourselves how Jesus showed forgiveness towards Zacchaeus.
On the footprints at the bottom of our display we each wrote a time in which we have had to show forgiveness in our own lives. As this action of forgiveness shows we are trying to follow in the footsteps on Jesus.
The Magical Yet – Growth Mindset
Coming back to school we focused on making sure we are practicing having a growth mindset. A growth mind set is something we all aim to have in Year 2 as it gives us the power to achieve anything we want.
The Magical Yet by Angela DiTerlizzi is a beautiful story which shows a little girl having a growth mind set using the power of the word 'yet'
We each created our own 'Magical Yet' which will be by our side when we are in school. On our pieces of work we wrote "If I can't do something YET I tell myself."
Underneath we each wrote different phrases and affirmations to help us to believe we can achieve something. Such as you can do it or keep going. Have a look at our wonderful display.
Roald Dahl Day 13th September 2021
Here we are celebrating Roald Dahl Day some of us dressed up as famous characters from Roald Dahl books and some of us dressed in yellow as it was Roald Dahl's favourite colour. We had a fabulous day.
Elmer
In Key Stage One we explored the text Elmer written by David McKee. Year Two really enjoyed looking at this text as our first literacy topic. The children spoke about how it is important to recognise what makes us special and unique.
Each child in Year Two wrote a letter to Elmer to explain how much we enjoyed the story. They also wanted to let Elmer know how wonderful he is. We shared some of our Growth Mindset affirmations with Elmer in case he ever feels fed up again.
Caritas in action
During Caritas in action week Year 2 explored 5 different themes from our faith.
Below you will see our beautiful display which we have created.
The theme this display focuses on is Family and Community.
"My community needs me" was the title of our session. Firstly, we discussed how little things make a big impact. We watched how a small stone can make a huge splash in a bowl of water.
We discussed how a grain of sand become a pearl inside an oyster. Each child then chose something small and beautiful from nature around them. One example is of a bee, the children who chose a bee described them as beautiful hard-working creatures. We summarised that no matter how small something is, it can have a big impact and bring such pleasure and joy.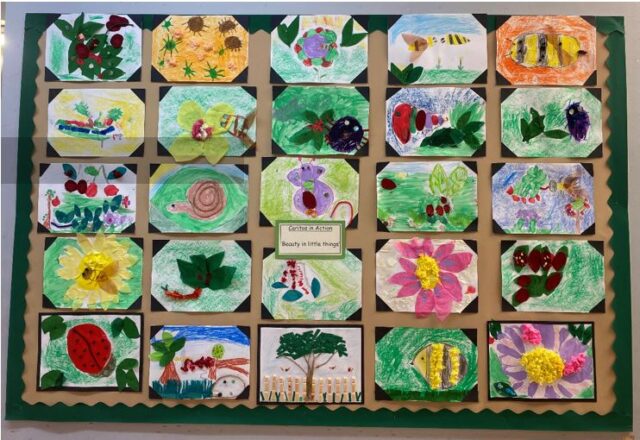 Our Wellie Walk
KS1 went on a little adventure around out local area. We walked to Droylsden town centre via the Moravian Settlement. Whilst in Droylsden we noticed lots of the physical features of a town we have been exploring in our geography lessons.
On the way back to school we walked along the canal where we saw a Heron!
We then fed the ducks with some corn. We had a great day in the sunshine!
Halloween!
Year Two loved the Halloween disco in school, Thank you Mrs Partridge.
We enjoyed dressing up as some spooky characters and enjoyed dancing to some spooky songs.
Diwali
Diwali is the five-day festival of lights celebrated by millions of Hindus, Sikhs and Jains across the world.
We created some beautiful tea light holders to take home to celebrate this festival with our families.