Welcome to Year Two.
I am very excited to be with the same lovely children again this year; Mrs Gleeson and I are looking forward to all the learning and fun we will be having in Year 2.
Below you will find some important notices and documents to help us in Year 2.
Staff
Teacher – Miss Tracey
Teaching Assistant- Mrs Gleeson
Documents
Notices
All children should have a PE kit in school ready for Monday afternoon when our external coach Mr Martin delivers a PE session.
Reading books and diaries should be in school every day. Children should aim to read each night at home to help them improve their skills and confidence.
You will be able to view a overview of the Year 2 curriculum below. This shows all of the areas we will cover in the different topics across the curriculum.
Some helpful websites to support learning from home
https://www.phonicsplay.co.uk/
Mission Statement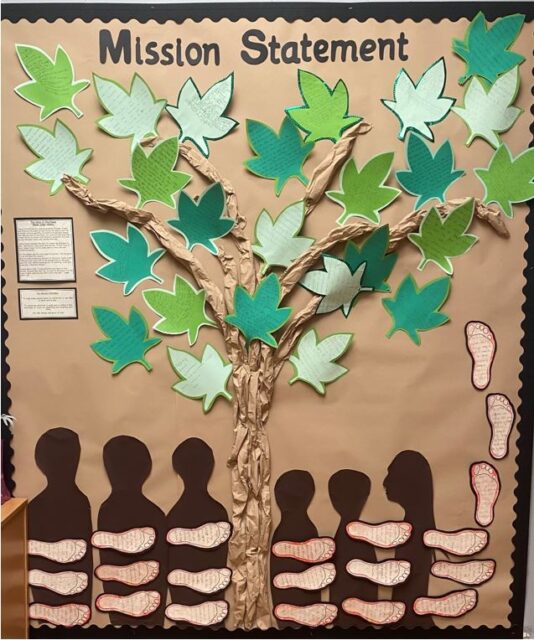 Our School Mission Statement is 'To help every person here to achieve his or her best in work and in play. To celebrate whatever is good and to follow in the footsteps of Jesus by supporting and forgiving each other, for the honour and glory of God.'
In Year Two we explored the Bible story of Zacchaeus the Tax collector (Luke 19:1-10) in this story we learn that we should never judge others and we should always show forgiveness just as Jesus did. Jesus knew that Zacchaeus could change and make a good choice. We should show this same attitude in our lives.
We created a beautiful sycamore tree at the front of our classroom. On each leaf is the story of Zaccheaus – we will aim to look back at this throughout the year to remind ourselves how Jesus showed forgiveness towards Zacchaeus.
On the footprints at the bottom of our display we each wrote a time in which we have had to show forgiveness in our own lives. As this action of forgiveness shows we are trying to follow in the footsteps on Jesus.
The Magical Yet – Growth Mindset
Coming back to school we focused on making sure we are practicing having a growth mindset. A growth mind set is something we all aim to have in Year 2 as it gives us the power to achieve anything we want.
The Magical Yet by Angela DiTerlizzi is a beautiful story which shows a little girl having a growth mind set using the power of the word 'yet'
We each created our own 'Magical Yet' which will be by our side when we are in school. On our pieces of work we wrote "If I can't do something YET I tell myself."
Underneath we each wrote different phrases and affirmations to help us to believe we can achieve something. Such as you can do it or keep going. Have a look at our wonderful display.
Roald Dahl Day 13th September 2021
Here we are celebrating Roald Dahl Day some of us dressed up as famous characters from Roald Dahl books and some of us dressed in yellow as it was Roald Dahls favourite colour. We had a fabulous day.