Welcome to Foundation Stage
Together We Shine!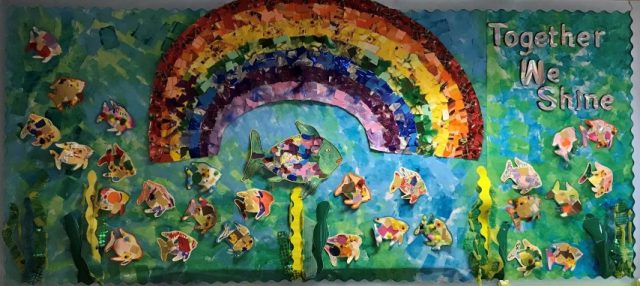 Teachers
Nursery
Teacher – Miss Brown
Teaching Assistants – Mrs Discini, Mrs Crowther
Reception
Teacher – Miss Biggam
Teaching Assistant – Mrs Delahunt, Miss Moore and Mrs Ferriss-King
Curriculum
Reception behaviour plan 2021-2022
Reception long term overview 2021-2022
Phonics
At St Anne's, we introduce our children to phonics through the DfE approved Little Wandle Letters and Sounds (Revised) Systematic Synthetic Phonics (SSP) programme.
The complete SSP programme draws on excellent practice from schools around the country. Little Wandle also draws on the latest research into how children learn best; how to ensure learning stays in children's long term memory and how best to enable children to apply their learning to become highly competent readers.
Foundations for Phonics in Nursery
We provide a balance of child-led and adult-led experiences for all children that meet the curriculum expectations for 'Communication and Language' and 'Literacy'. These include:
• sharing high-quality stories and poems
• learning a range of nursery rhymes and action rhymes
• activities that develop focused listening and attention, including oral blending
• attention to high-quality language.
• We ensure Nursery children are well prepared to begin learning grapheme-phoneme correspondences (GPCs) and blending in Reception.
Daily Phonics Lessons in Reception
In Reception, we build from 10-minute lessons, with additional daily oral blending games, to the full-length 30 minute lesson as quickly as possible. Each Friday, we review the week's teaching to help children become fluent readers. Children make a strong start in Reception: teaching begins in Week 2 of the Autumn term.
We follow the Little Wandle Letters and Sounds Revised expectations of progress:
Children in Reception are taught to read and spell words using Phase 2 and 3 GPCs, and words with adjacent consonants (Phase 4) with fluency and accuracy. See the full progression overview here
Little Wandle Information for Parents
Here you will find guides on how to pronounce the sounds taught in Reception and information on reading with your child:
https://www.littlewandlelettersandsounds.org.uk/resources/for-parents/
Reading
We use Rising Stars decodable books that are matched carefully to the children's progression in phonics. Once children are confidently blending letters to read words they will bring home a colour banded book to read to you at home. The children will also bring home a sharing book; this is a book designed to be read by an adult. These books help to instil a love of reading and help the children to develop their vocabulary.
Home Learning Links
Helping your child with Maths at home
Ideas for encouraging mark making and early writing
Reading with your child at home
Our Mission Statement is "To help every person here to achieve his or her best in work and in play. To celebrate whatever is good and to follow in the footsteps of Jesus by supporting and forgiving each other, For the honour and glory of God."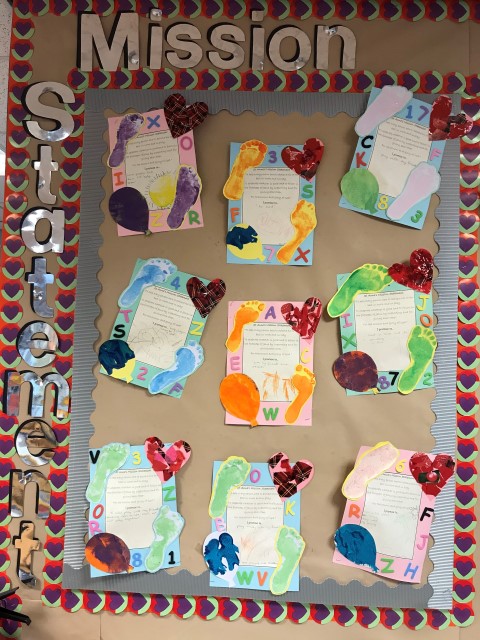 Class Work
Science
In science this week the FS children have been exploring which materials keep the Gingerbread Man dry so he can cross the river safely!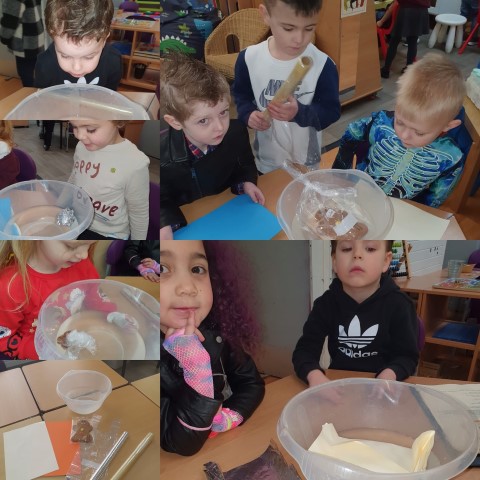 National Poetry Day – Chocolate Poem by Reception
The children in Reception loved listening to the poem Chocolate Cake by Michael Rosen, they then tasted and described some chocolate cake and we recited our own class poem!