Staff
Class Teacher – Mrs Garvey
Other members of staff working with Year 6 – Mrs Corns and Mrs Partridge
Important Notices
Children should be wearing full school uniform everyday apart from on a Monday where we ask that they wear their PE kits.
The children will sit a 15 minute arithmetic test every Monday in class, the children will take these home to work on and improve for Friday's retest.
Half term spellings can be found stuck in your child's reading record. New spellings are set every Monday and spellings will be tested every Friday- it is expected that the children will practise these at home to build on what we have learnt in class.
Children are expected to read for at least 10 minutes every day and record this in their reading records which will be checked weekly.
Documents
Curriculum
Curriculum overview Summer 1 2021
Class Work
Roald Dahl Day 2020
Year 6 have enjoyed dressing up as their favourite characters and wearing yellow in celebration of Roald Dahl Day. We learnt about the author's journey through life and the inspiration behind his much loved stories.
September 2020
Year 6 really enjoyed our 'Tell Me a Dragon' writing unit where, after designing our dragon, we wrote a non-chronological report. There was a superb range in the types of dragons we dreamt up and we enjoyed sharing our creations with each other. Our class theme is 'RESPONSIBILITY' so we worked hard to create a hall display representing the responsibility that Zacchaeus had to demonstrate in Luke 19:1-10. Caritas In Action week allowed us to reflect on the ways that St Anne's already works together for the good of the Parish and suggested ideas for moving forward during the current Covid restrictions.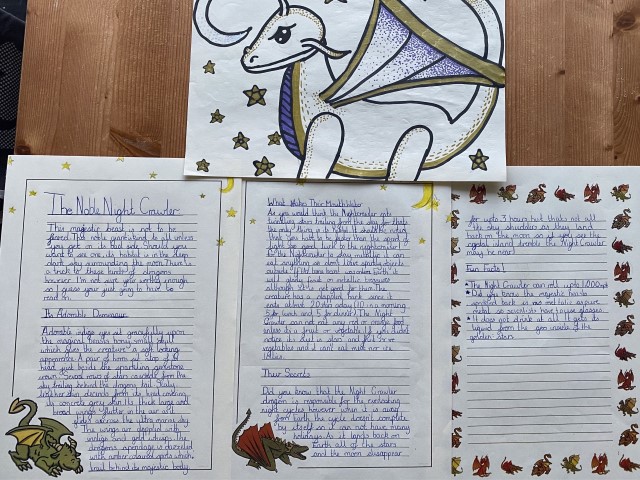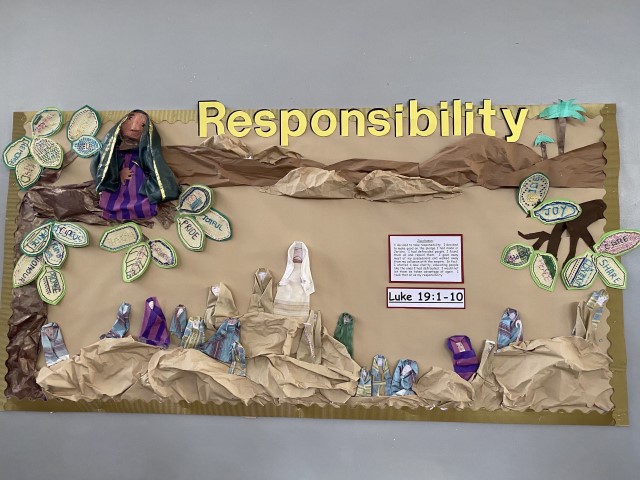 October 2020
To celebrate October being The Month of The Holy Rosary, Year 6 have worked hard to create a Walkable Rosary. We spent a reflective afternoon creating it and praying one decade together. In Science we have enjoyed exploring the properties of light and we had lots of fun using them to solve and create riddles using reverse writing and mirrors. The end of the month gave us a good reason to celebrate at our Halloween Disco in class. We certainly enjoyed dressing for the occasion!
November 2020
This month we got used to a period of remote learning and we had so much fun sharing our work in new and creative ways. We enjoyed our daily morning and afternoon meetings online and shared our work after every session. Interfaith week allowed us to explore a range of different religions and we enjoyed creating lots of pieces of work to add to our Interfaith display when we returned to school. Upon our return, our most memorable history lesson was spent debating appeasement – we certainly have some politicians and leaders in the making in our class!
December 2020
Year 6 have really enjoyed preparing for Christmas. We lit the candles on our class Advent wreath every week whilst the children led collective worship sessions that they had planned in groups. We made a spectacular bauble wreath for our door – each bauble represents a member of our Year 6 team. 'Break The Rules Day' was a fun way to fundraise and we performed and shared our 'Covid Christmas Concert' on the glockenspiels with our parents virtually.
January 2021
January saw the return of remote learning but Year 6 took it all in their stride! We have enjoyed learning about the Titanic in a number of cross curricular ways and started our new class story The Titanic Detective Agency – we even received a letter from Lindsay Littleson the author telling us all about how she created the characters from real life Titanic survivors! We started a Book Club in our daily online meetings where we share our Reading For Pleasure books and recommend reads to our friends. Surprise snow also gave us lots to smile about!
Year 6 Assembly
Year 6 Lenten Assembly – The Last Supper