Class Work
Rainforest Art
Lesson 1: Our focus was to investigate outline and then use this knowledge to create a class display. We reflected on our knowledge though a 'top tip list' or a 'top tip poem' (literacy link) which demonstrates how to create perfect outlines.
Lesson 2: We experimented with lines and marks practicing on plants found in tropical rainforests. The technique of stippling proved to be a class favourite.
Lesson 3: We were all given Artists through history who have painted the rainforest. From there we had to analyse and critic their work.
Lesson 4: Again using our knowledge of rainforest plants, we had to pick our favourites and experiments with different implements and artist techniques.
Geography
Today to complete our first Geography unit we made salt dough maps to demonstrate our knowledge about living in the UK. We still have more work to complete on then but watch this space.
Reading
Well what a term! We have been working so hard this term to increase our reading mileage. We want to keep filling them post stick notes with recommendations. As a class we want to double the amount of post stick notes. Find out next term if we succeed!
Collective Worship
A big thank you to these two incredible girls for delivering this weeks Collective Worship! You spoke with such conviction and passion.
The Third Sunday of Advent
After reflecting on the Third Sunday of Advent we decided to make gifts of love for someone in our class (Secret Santa style).
PE
A big well done to all of Year Four which have massively improved their skills in football. It's been great to see you all put your skills into action in today's tournament.
Christmas Jumper Day
The second Sunday of Advent
Today we celebrated the second Sunday of Advent. It was great to perform and deliver such a powerful message to the whole school. Thanks to all who came and supported!
Mary Farmer visit
A huge thank you to Mary Farmer who visited our class today to talk about the true meaning of Advent. We really enjoyed listening and meditating to scripture and also creating our own prayer candles. We all tried hard to open up our hearts in preparation for the 'kings arrival'
Black History Month
For Black History Month we studied Nelson Mandela. Enjoy browsing through our unit of work.
The Romans (History/Geography)
This half term we have been learning about who the Romans were, how they expanded ( Rulers included) and what life was like for both the Romans and Celts before they invaded Britain. Take a look at our journey so far…
Maths: Measurement – Length
To kick off our new topic measurement we had a fun Mini Olympics to help appreciate the importance of length. The events were:
Big foot contest
Cotton ball shot put
Paper straw Javelin
Paper plate disc throwing
For each event we had to measure the furthest throw. Take a look and see!
Times Table Practice
We now have a new approach to how we tackle learning our times tables in Year Four. First we must demonstrate we can count in the times table (mouth symbol). Then we must be able to rapidly recall an answer to a calculation given (for symbol). Finally we need to demonstrate that we know the corresponding division facts (division symbol). Once we have completed these stages fluently and confidently we can then move onto the next time table.
Tweet Tweet
A twitter area has been set up in our classroom to remind us that electronic communication when used correctly can be powerful. We are now using it to inform others about the positive things that are happening in our lives.
P.S Thank you Miss Brescani for setting this up!!
ICT
To begin our unit 'online communication' we looked at why being online is so important. Miss Murphy gave us four big questions. We then had to answer them and create our own big questions based on the subject given. From there we then became a BBC Reporter publishing an interview which discussed the use of the internet and being 'online'.
Italian
Hello we are year four. Today we had our very first lesson learning Italian! We learnt how to say hello, good morning, good evening and good night. Our Italian teacher even had a full conversation with Miss Brescani in Italian. We were amazed!
Ciao siamo al quarto anno. Oggi abbiamo avuto la nostra prima lezione di apprendimento dell'italiano! Abbiamo imparato a salutare, buongiorno, buona sera e buona notte. La nostra insegnante di italiano ha persino avuto una conversazione completa con la signorina Brescani in italiano. Siamo rimasti stupiti!
Music
Well this week Year Four had their first violin session. Every child loved experimenting with their violin. More photos will be added each week so you can track how they are doing.
Spelling
This half term we are focusing on words that sound like but are spelt… to aid this we are focusing on learning through the art of dance using the 'break-it-down' method. Even Miss Murphy joined in! Please please please have a go at home. Send in your pictures to Miss Murphy you may end up on this page. Let's make spelling fun!!!!
PE
The next couple of weeks the children will be learning Rugby.  This week it was all about side stepping.
Science
Big Project Reveal
To end our first Science unit we designed and created our own tooth. Before designing we thought about if we wanted it to be for a carnivore, herbivore or omnivore. From there we let our imaginations run wild and created masterpieces! We hope you like them.
Body Works
Here is a quick peek into our topic 'our body works in mysterious ways'
We have worked incredibly hard learning about human teeth can you guess from this picture what type of tooth we are? We cannot wait to showcase our learning on here but we are very busy at the moment working on something spectacular! Keep checking this page as it wont be long until Miss Murphy reveals our whole learning journey including our final project.
You won't want to miss it.
Collective Worship – Week 1
'I am special' – Miss Murphy played both top of the charts songs which linked to this weeks theme and hymns which reminded us of being special. Whilst a song was playing, we each took it in turn to draw around our hand giving one reason of why we are special.
Roald Dahl Day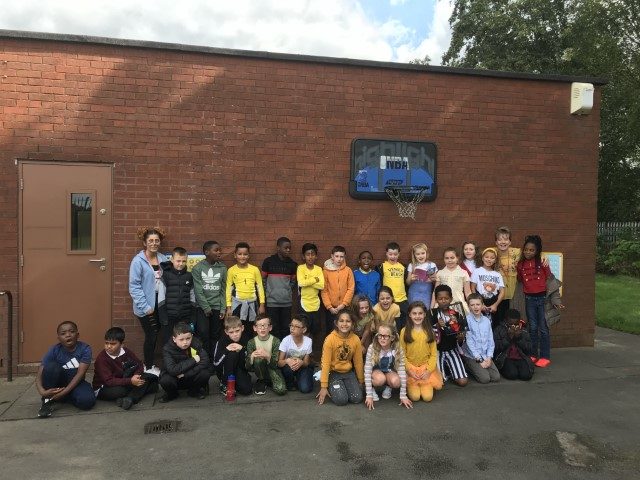 Roald Dahl Day
Today we have been super busy! Miss Murphy turned all lessons into a Roald Dahl theme. Can anyone guess what we have been up to? Examples of our day is on our class work page. Make sure you check them out!
We Are World Changers!
This years Sunnygram is all about the future and how we can change the world. We were given a list of aspiring jobs and picked one which suited me the most. That way when our friends talk about their favourites things about me they can think about how I am suited to my future job.